Looking for new ideas for lunches?  Tortilla rolls have become our new faves.  I can pretty much look in the cupboards/fridge and grab leftovers and ingredients I have laying around and experiment… which saves me from having to make anymore trips to the grocery store.  Tortilla roll ups are super easy, they are extremely versatile (experiment, experiment, experiment), and the kids can do it all by themselves.  Which they love!  I definitely do some of the prep work, like putting toppings into bowls, but they take it from there, and have a blast doing it.  Here are three of our favorites and a list of others we plan to try!
Hope you enjoy experimenting in the kitchen with your little people.
TUNA MELT TORTILLA ROLL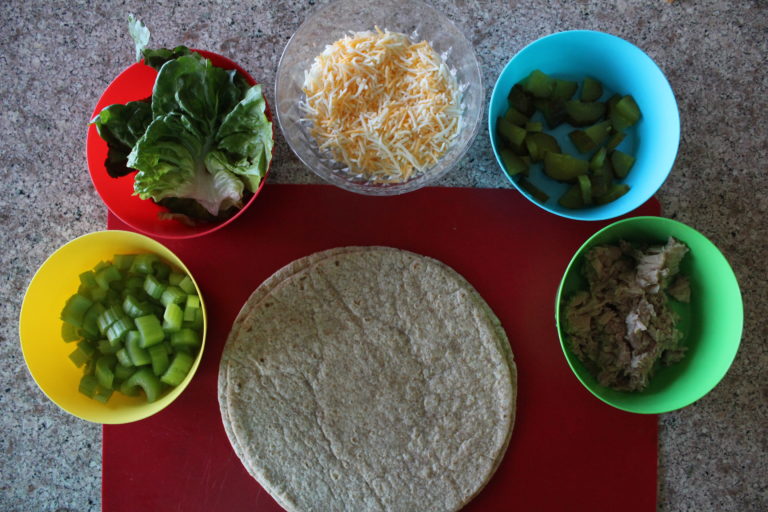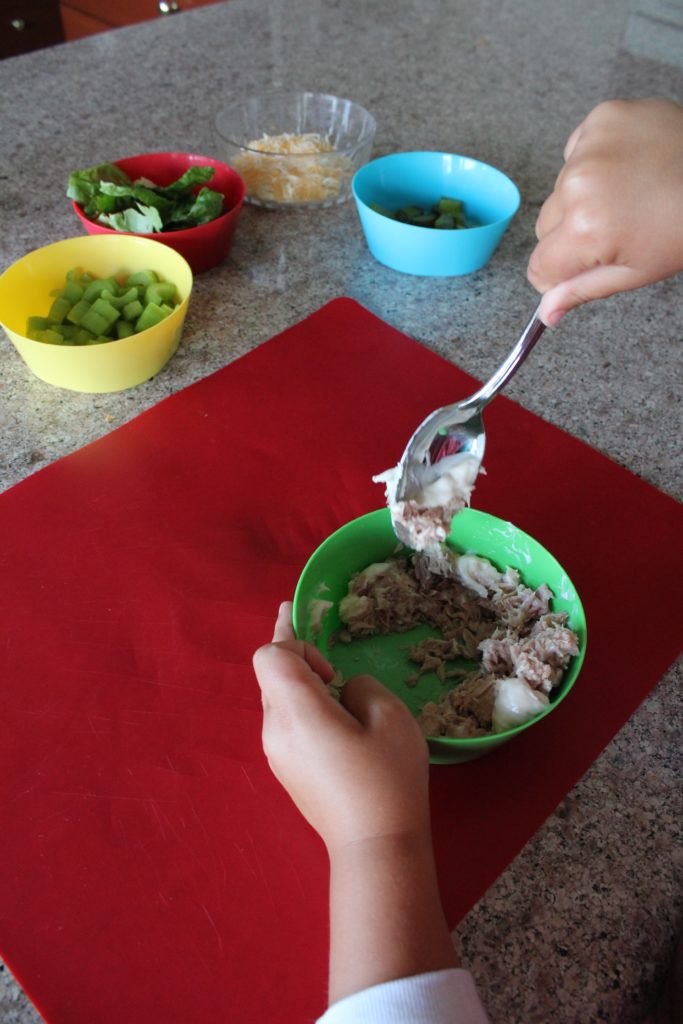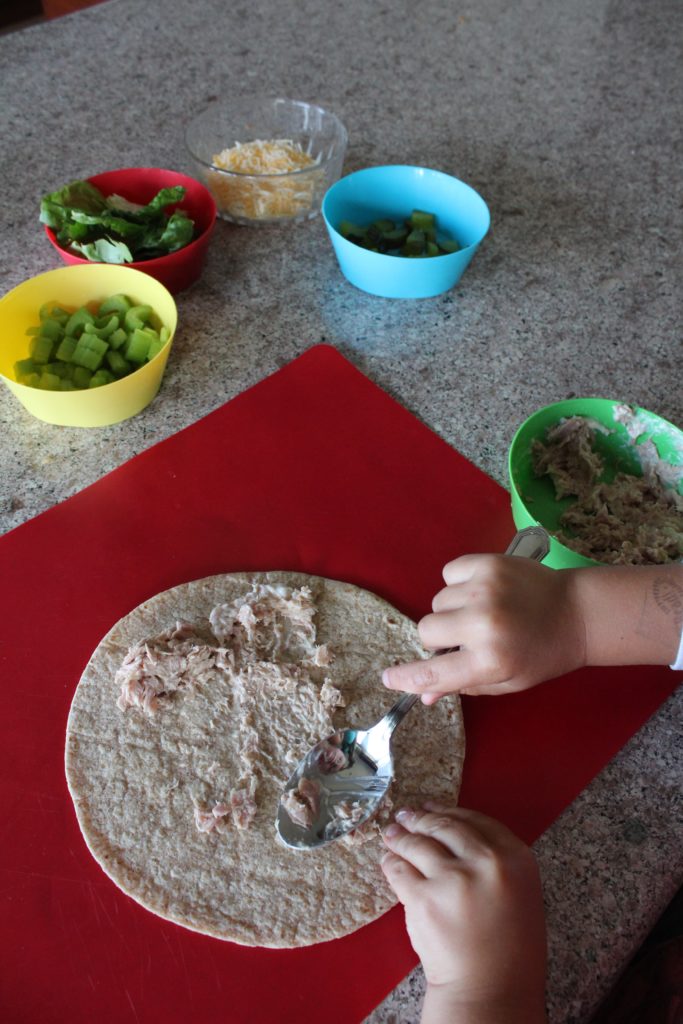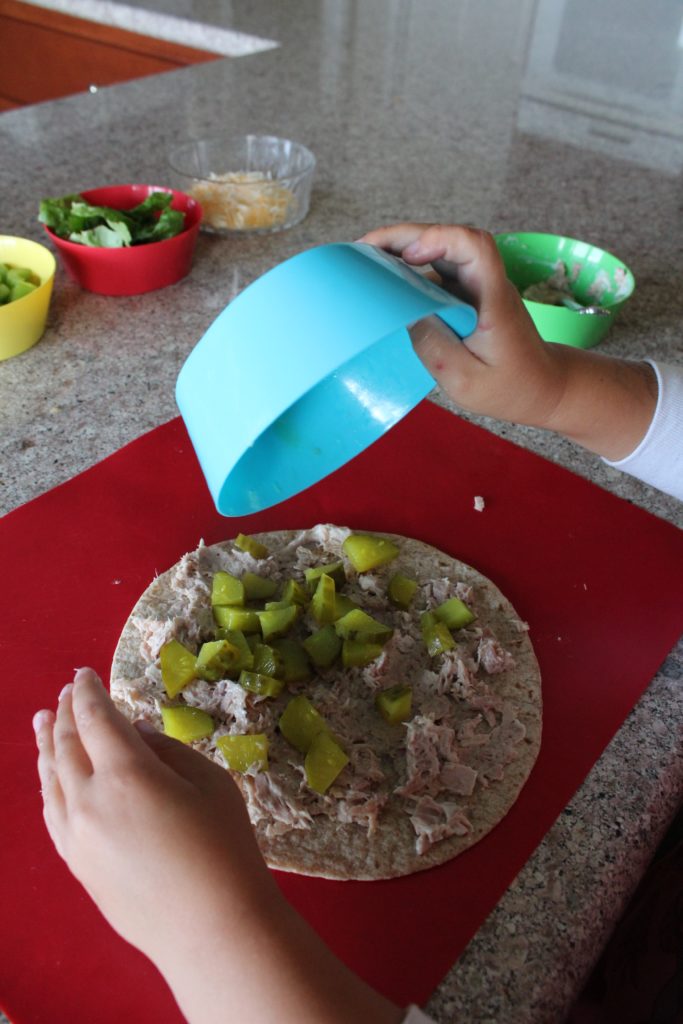 KIDS GET INVOLVED
Tortilla roll ups are just a fun hands on experience in general.  They get to mix, decorate, roll and cut.  Everything about these are fun for the kids, and so easy on parents, especially since the possibilities are endless.  Just look in your fridge and mess around.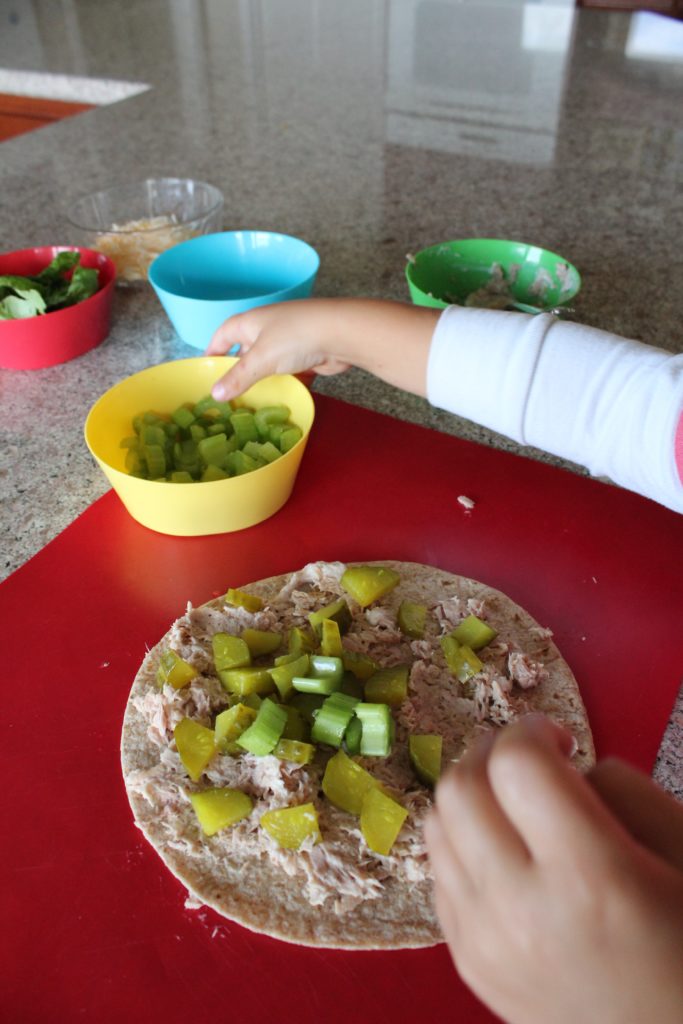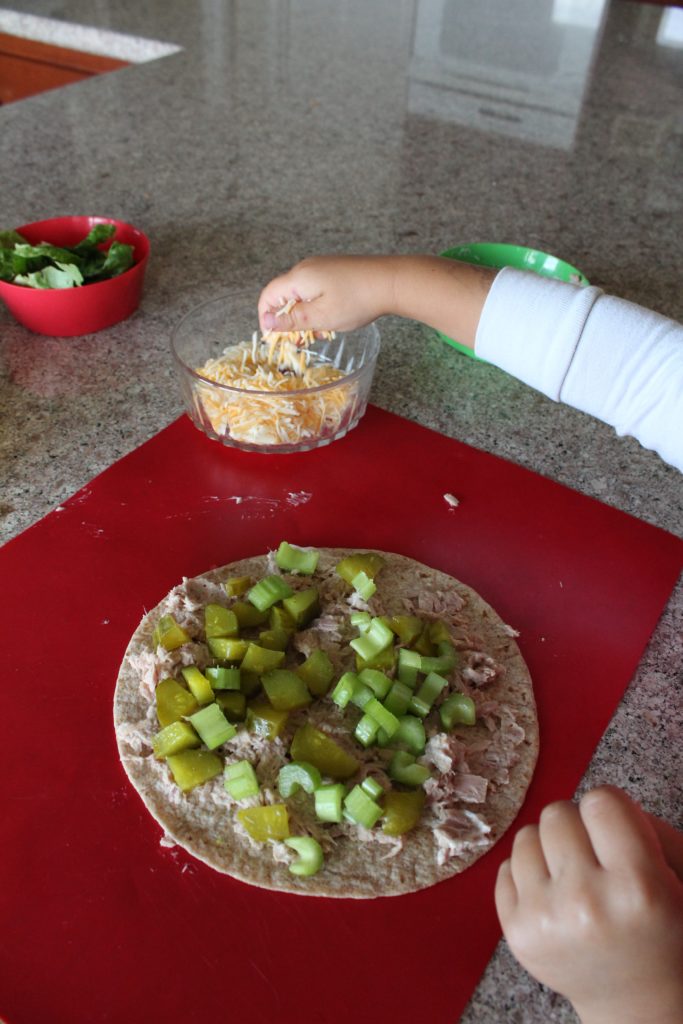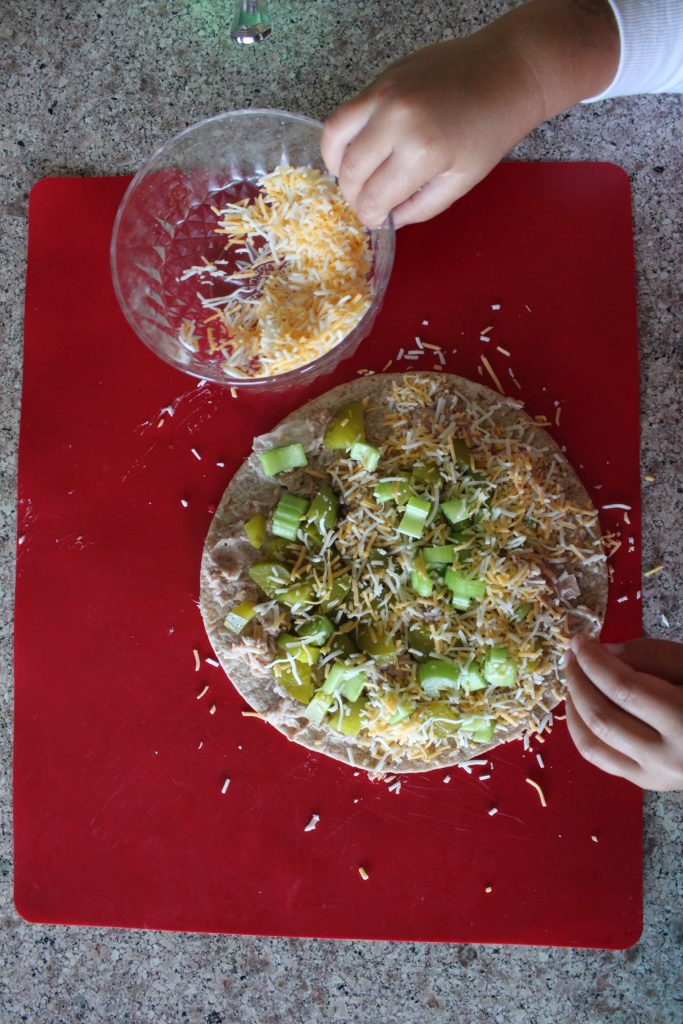 EDUCATE WHILE YOU BAKE
Motor skill practice.  Tactile activities.  Following instructions and being creative.  All of these skills are applied in these three fun, easy recipes!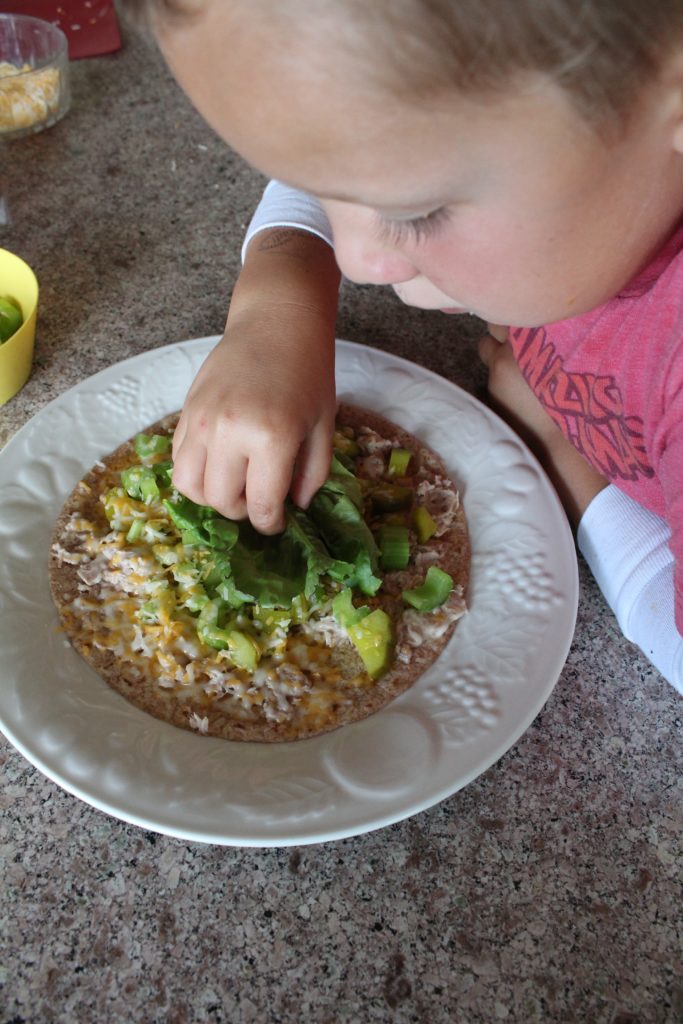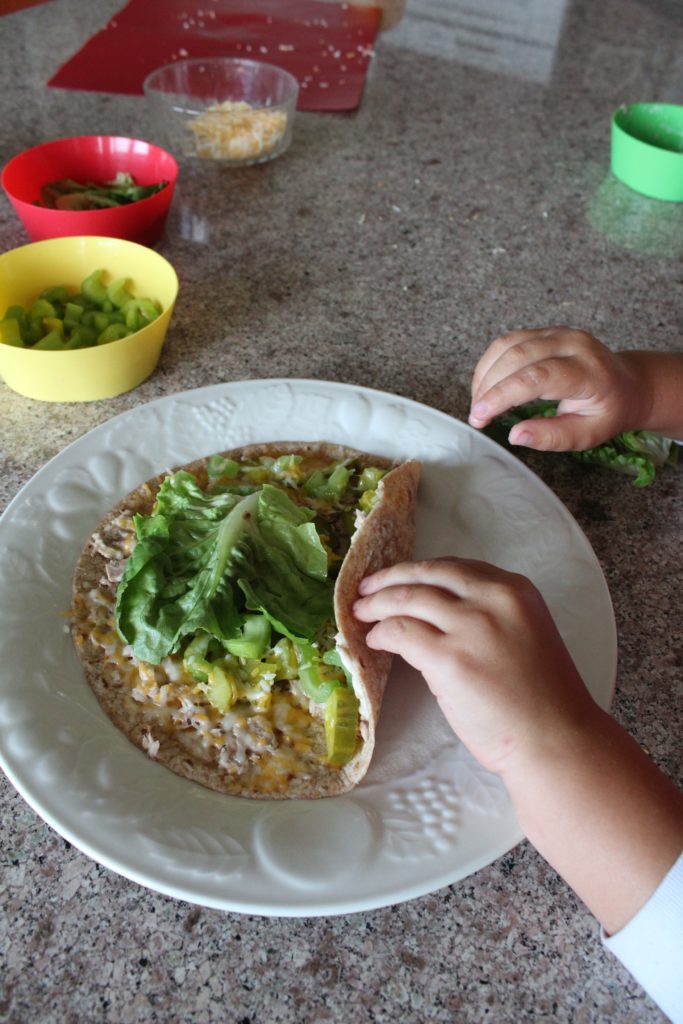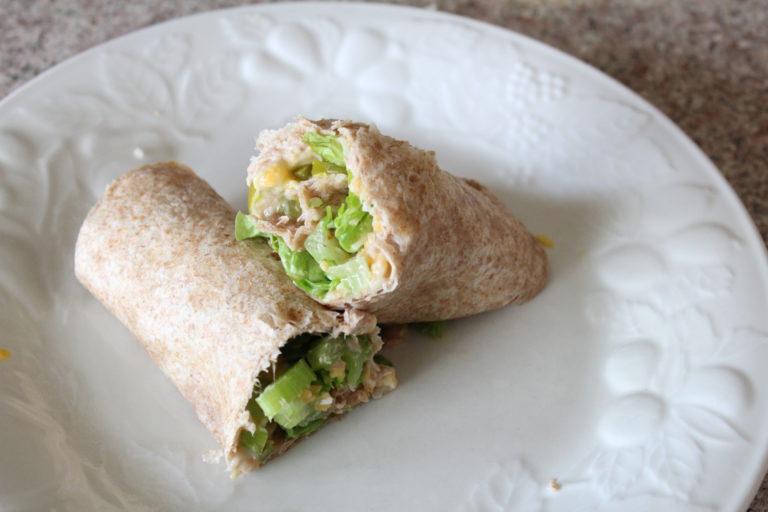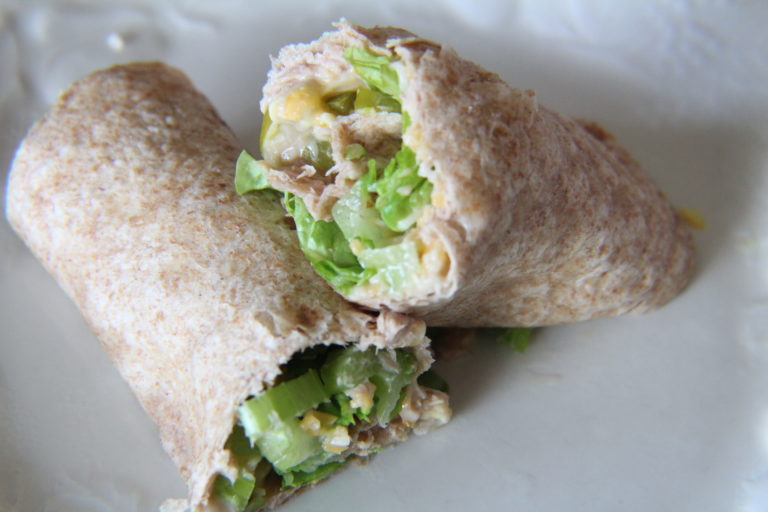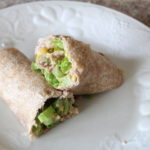 Tuna Melt Tortilla Rolls
Ingredients
1

can

tuna

1

pickle

chopped

2

stalks

celery

2

blades

lettuce

1/4

cup

grated cheese

1

Tbsp

miracle whip

1

whole wheat tortilla (per child)
Instructions
Cut up lettuce and pickle and put in a bowl. You can have your toddler do this or you can do it in advance. Put tuna and cheese in a bowl.

Mix together miracle whip and tuna

Smear tuna mixture on tortilla until it is covered

Add as much pickle, celery and cheese as you would like

Pop in the microwave for 20-30 seconds

Put lettuce on top. Roll it up!
ADULT TASKS: Putting ingredients in bowls. You can have your toddler cut the pickle and celery with a dull butter knife or you can do it in advance. Put the tortilla wrap in the microwave
KID TASKS: Chopping up pickle and celery. Mixing tuna and miracle whip. Adding all the ingredients. Rolling it up. Cutting it.
 BACON, CHEDDAR AND RANCH TORTILLA ROLL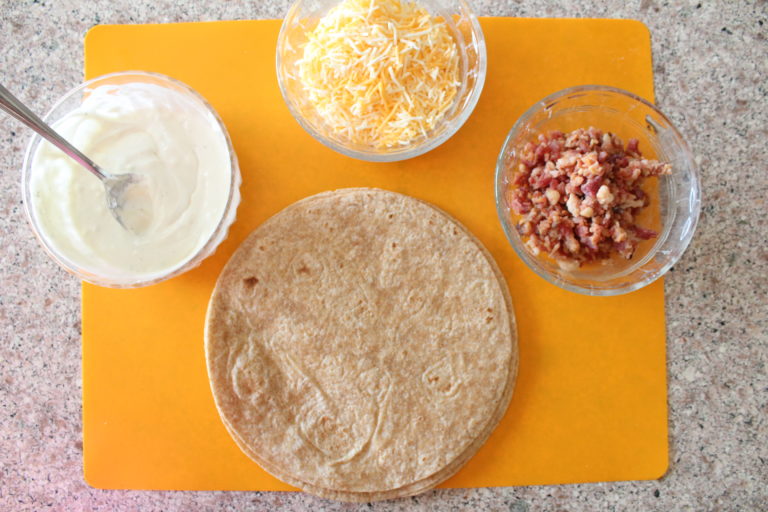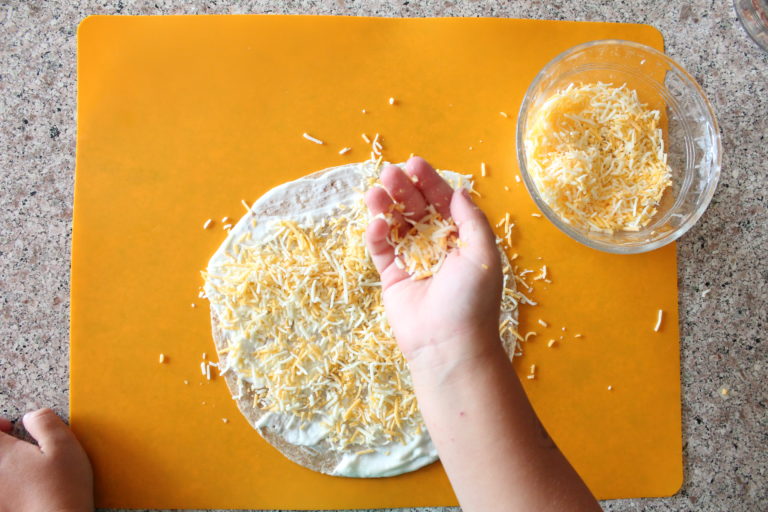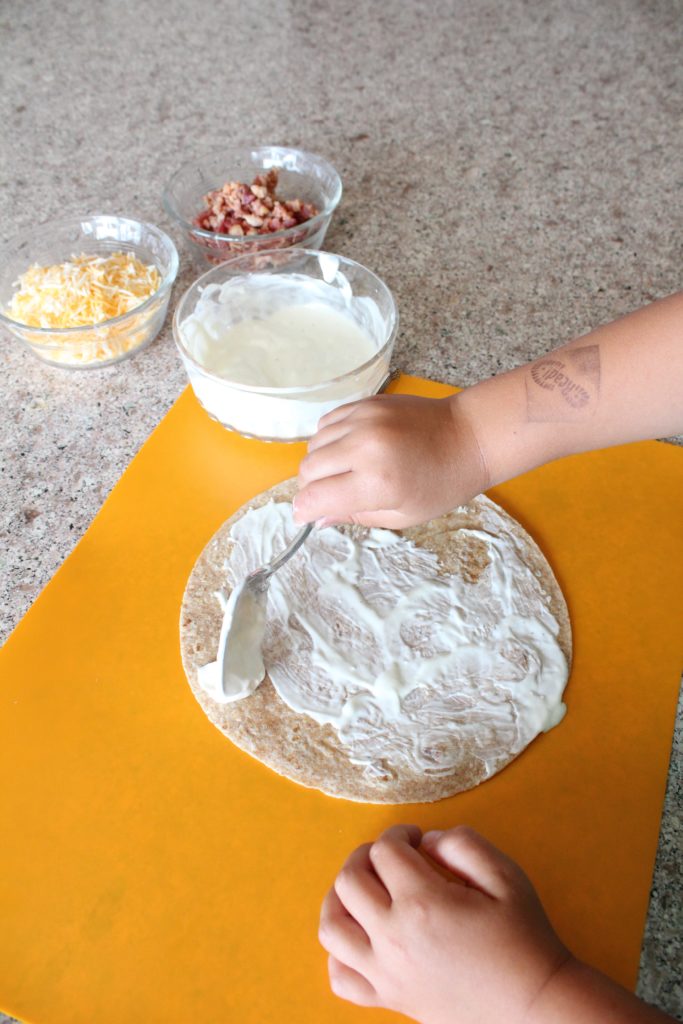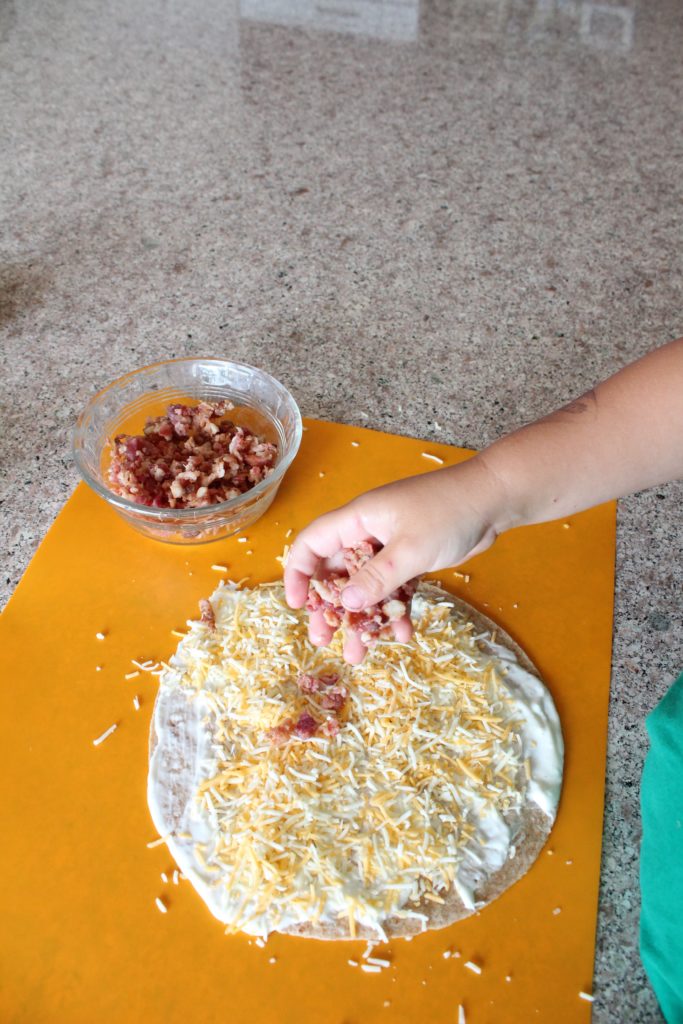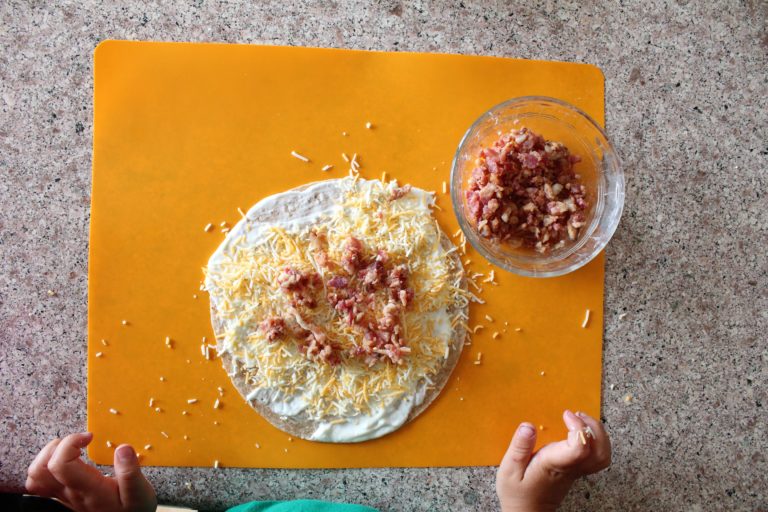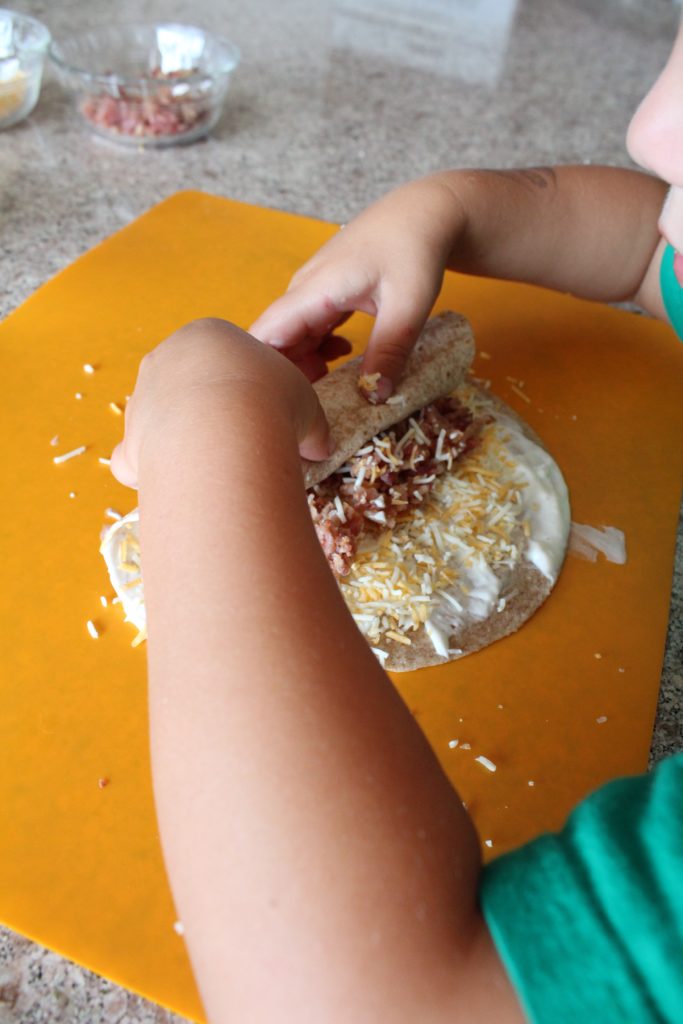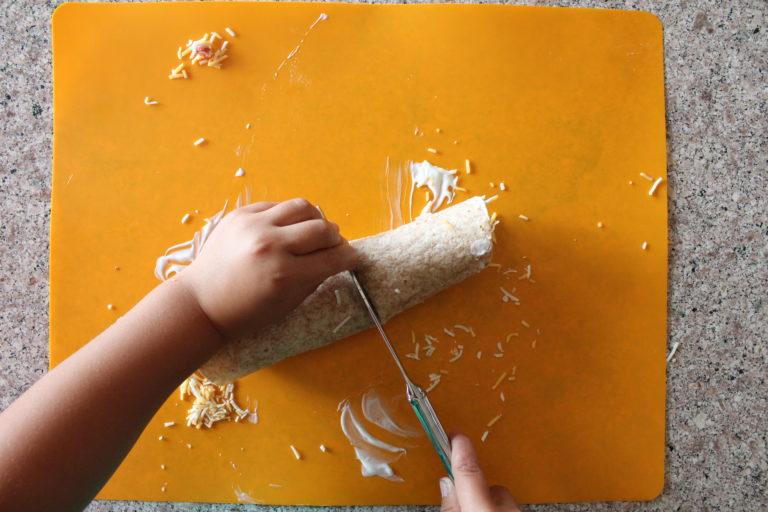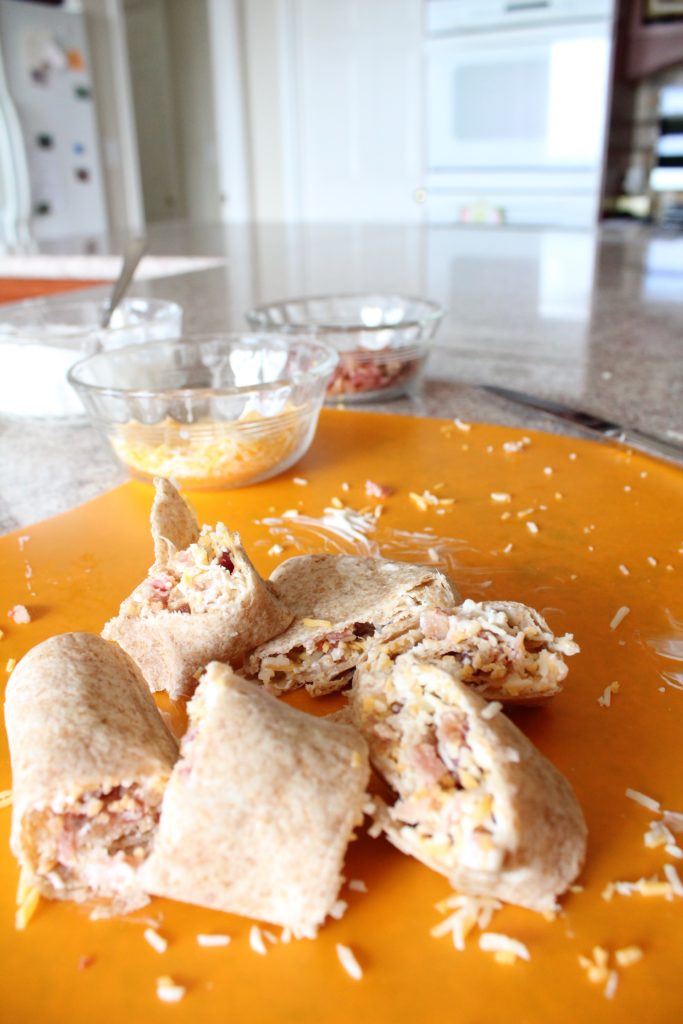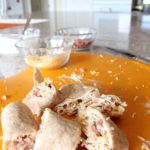 Bacon, Cheddar and Ranch Tortilla Roll
Ingredients
1

whole wheat tortilla per child

1/4

cup

low fat sour cream

1/8

cup

ranch dressing (hidden valley)

5

strips of bacon (crumbled) (you could use chicken too.)

1/4

cup

cheddar cheese, grated
Instructions
Mix together low fat sour cream and ranch dressing. Smear onto tortilla until completely covered

Add crumbled bacon. Add cheddar cheese.
ADULT TASKS: Shred cheese or buy shredded cheese. Cook bacon or buy crumbled bacon.
KID TASKS: Crumble cooled bacon. Mix sour cream and ranch together. Smear it on tortilla. Add bacon. Add cheese. Roll it up. Cut it with a butter knife.
PEANUT BUTTER, HONEY AND BANANA TORTILLA ROLL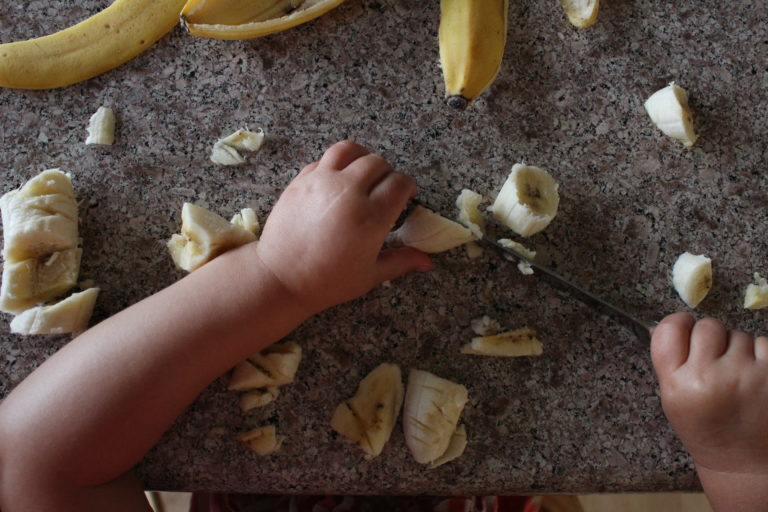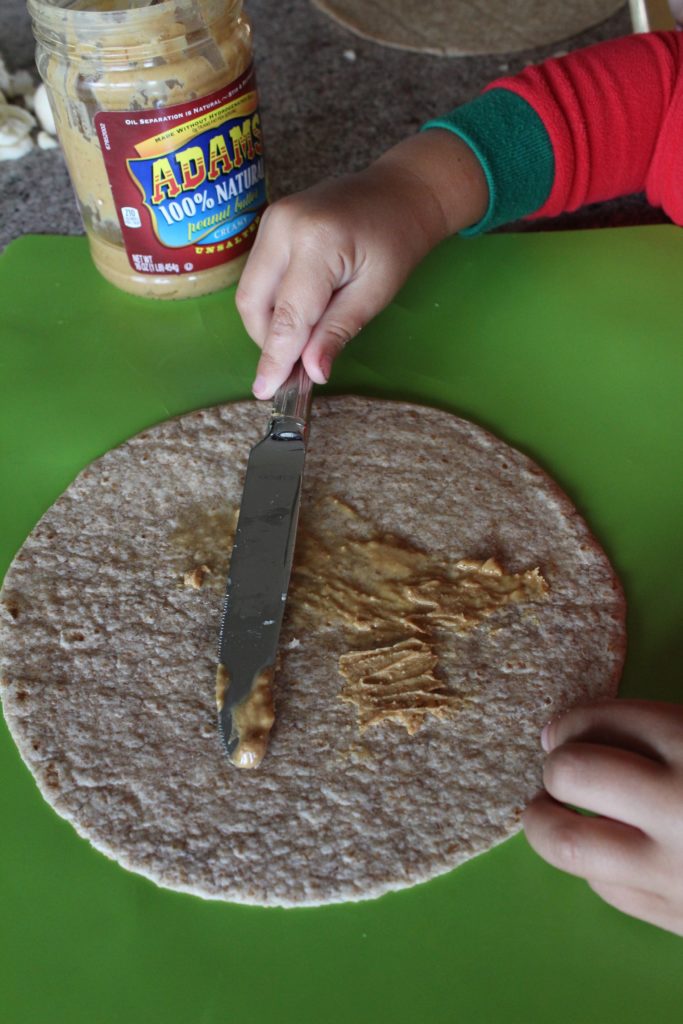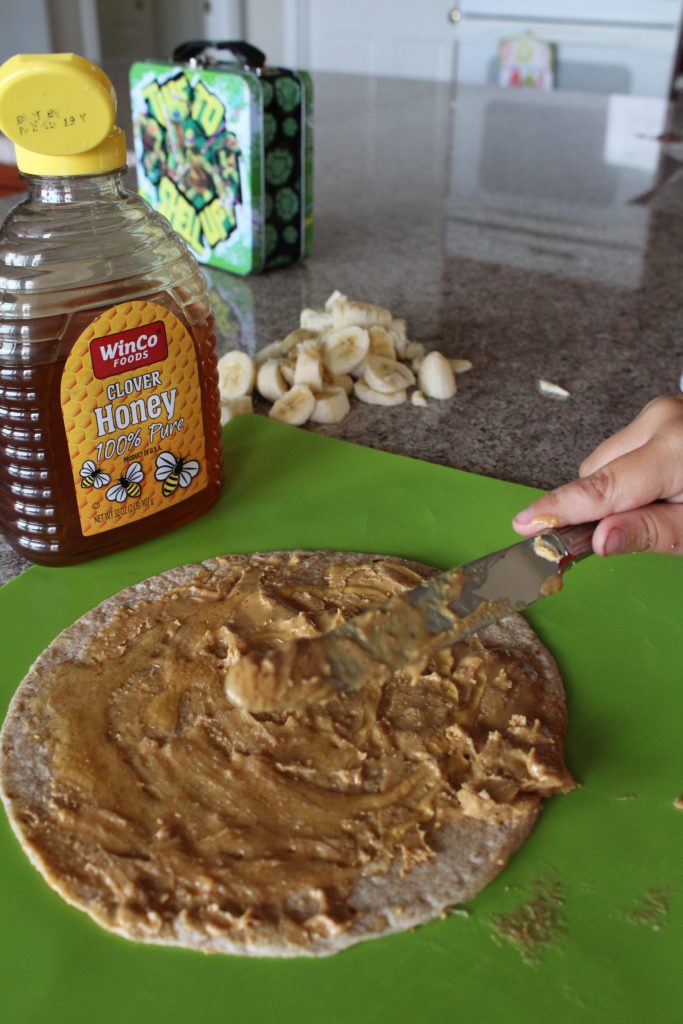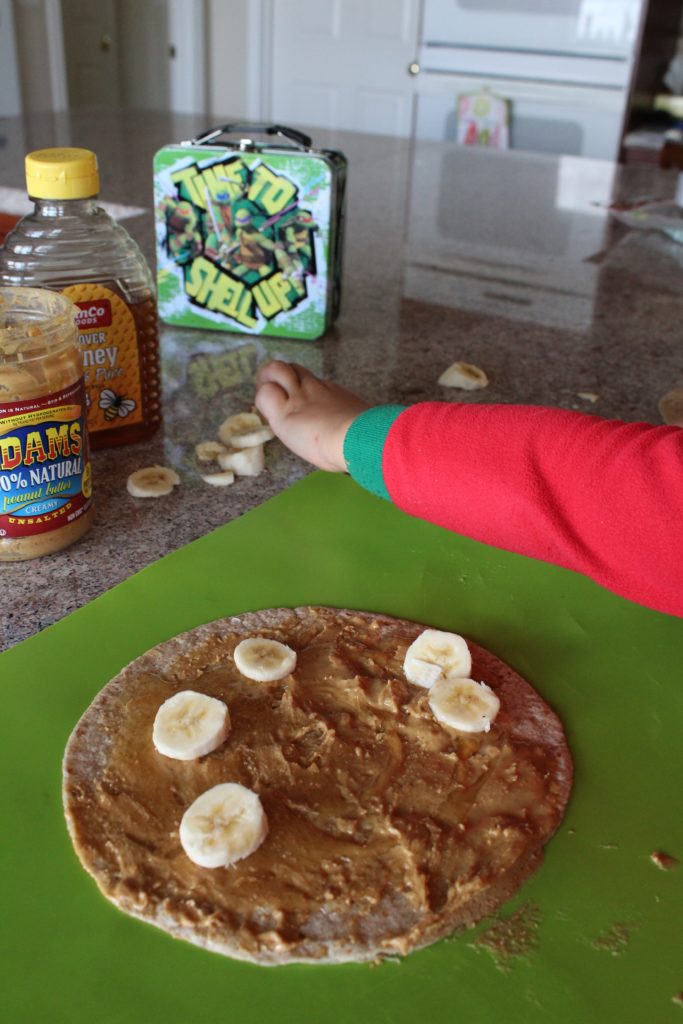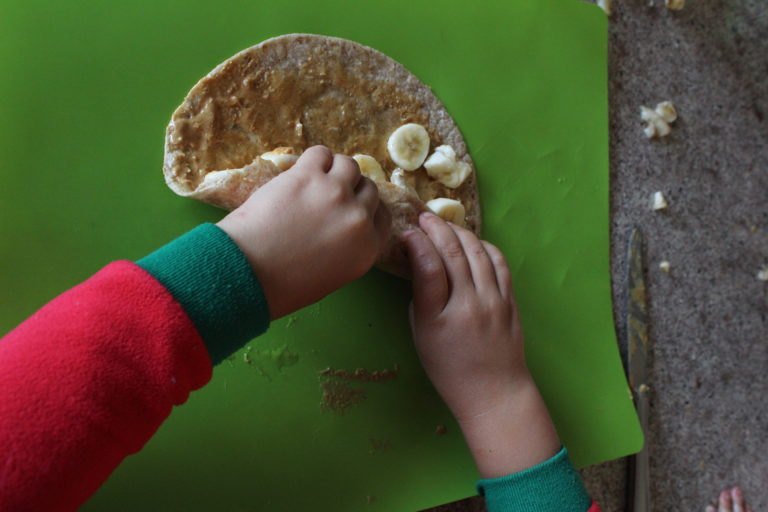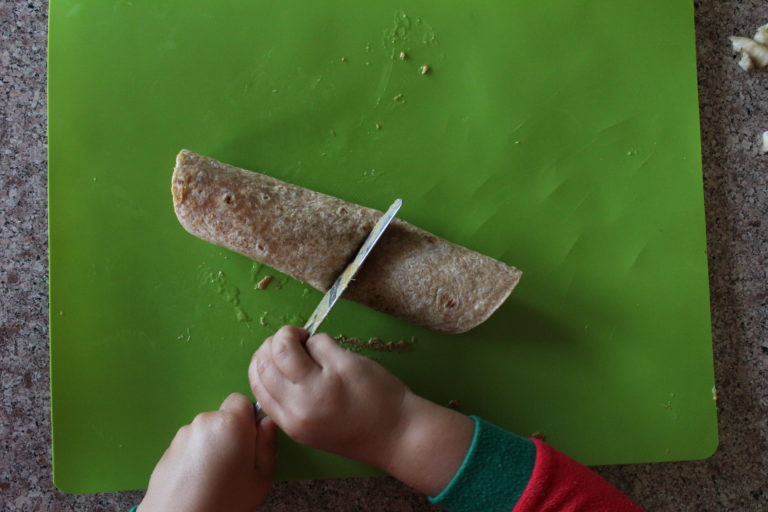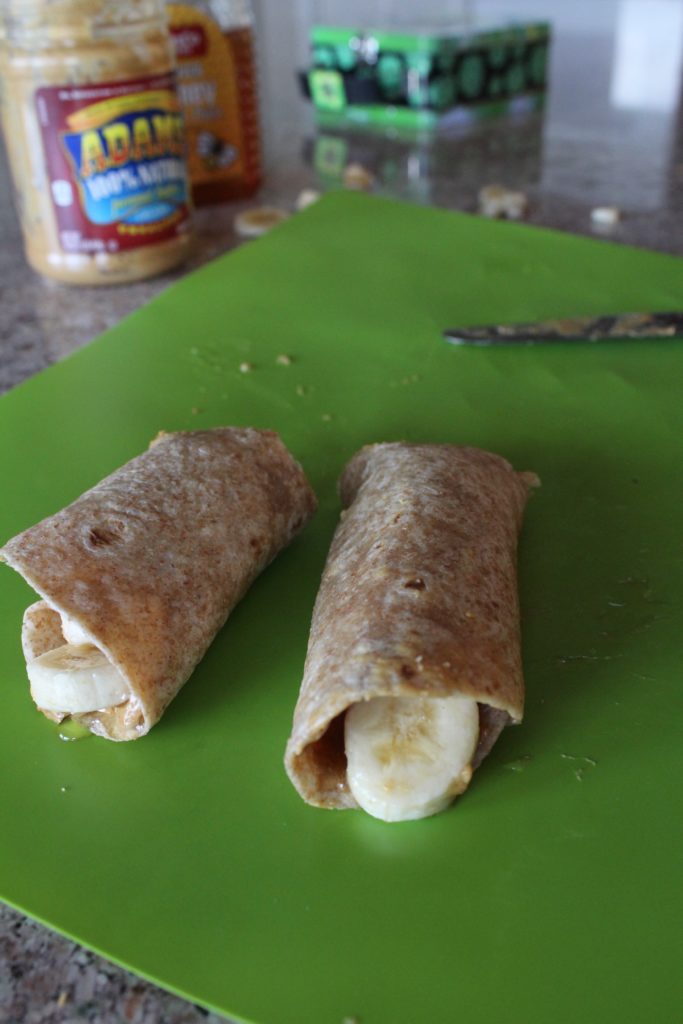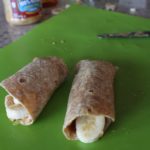 Peanut Butter, Honey and Banana Tortilla Roll- up
Ingredients
1

whole wheat tortilla per child

1/8

cup

peanut butter

1

Tbsp.

Honey (more if desired)

1

chopped banana (less if desired)
Instructions
Smear peanut butter on tortilla until completely covered

Add honey and smear into the peanut butter with a butter knife

Chop bananas and add to the peanut butter and honey.
ADULT TASKS: Besides pulling out the ingredients, absolutely nothing.
KID TASKS: Spooning and smearing peanut butter and honey. Peeling and chopping bananas and adding them. Rolling up tortilla and cutting it with butter knife.
LOOKING FOR MORE IDEAS?  Here are a few more we plan on experimenting with.
Egg Salad  (I would just have the kids mash the eggs instead of chopping so the consistency is more spreadable- add avocado to the mash for a healthy fat)
Pizza (Cheese, pineapple, pepperoni, tomato sauce, bacon, olives… whatever toppings you can find)
Ham, Chive and Cream Cheese (Slices of ham, cream cheese, and chopped chives… yum!)
Deli Meat and Cheese (Any kind, just whatever you have, serve hot or cold)
Turkey or Chicken Ranch (same recipe as above just substituting meats)
Refried Bean and Cheese (Just the classic burrito roll-up, add veggies and salsa for more topping fun)
Veggie and Hummus (Use hummus as spread and add any veggies or meat that sound yummy).
Looking for more delicious wrap ideas?  Here are 50 recipe ideas to choose from.
Enjoy experimenting and let us know what you come up with!  What are some of your go-to lunch ideas for kids?

RELATED POSTS