I absolutely love apple crisp! This is a favorite fall dessert recipe of mine. I grew up eating this often as the perfect ending to a fall Sunday family dinner. It's such a simple dessert that doesn't take much work and the results are delicious!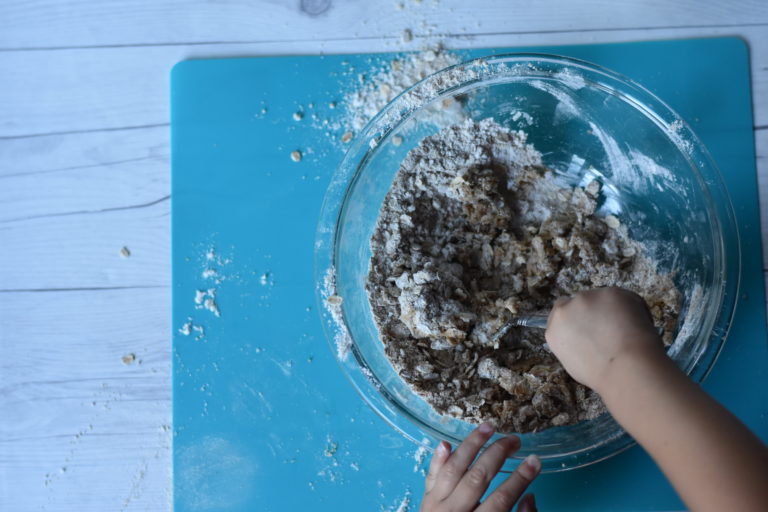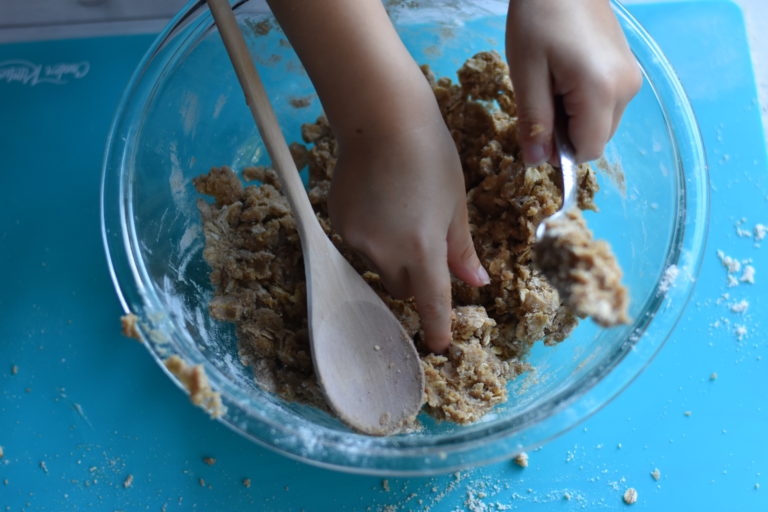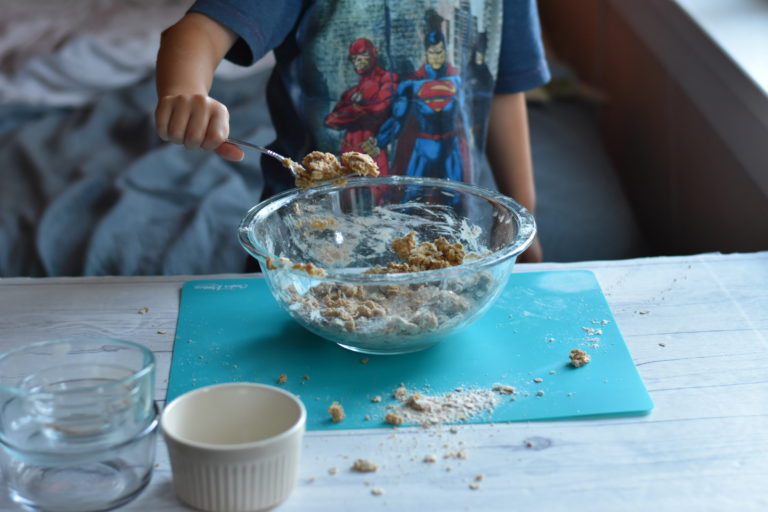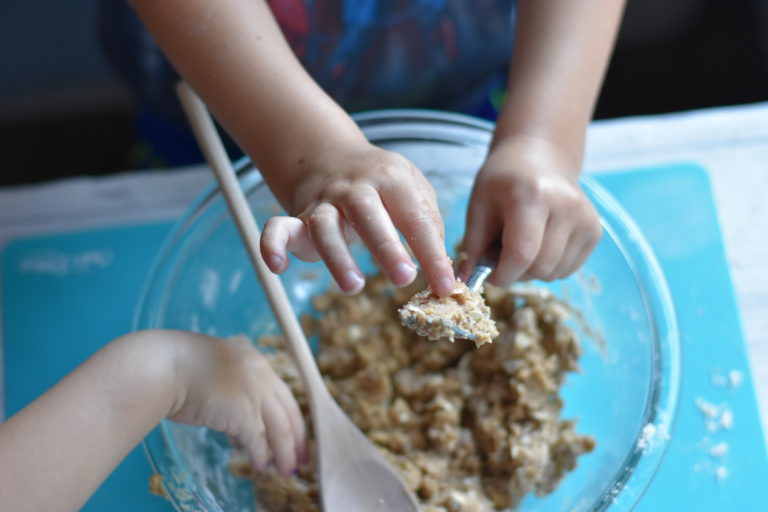 To begin you take the softened butter and using a fork smash the topping ingredients together. This is such a simple step that the toddlers can easily help with. It's impossible to ruin this topping for the apple crisp! Just keep mixing, stirring and mashing until it becomes nice and crumbly. Your kids will probably love the texture (and taste if they are sneaky) for this apple crisp topping! Here's what it looks like once it's all combined and crumbly.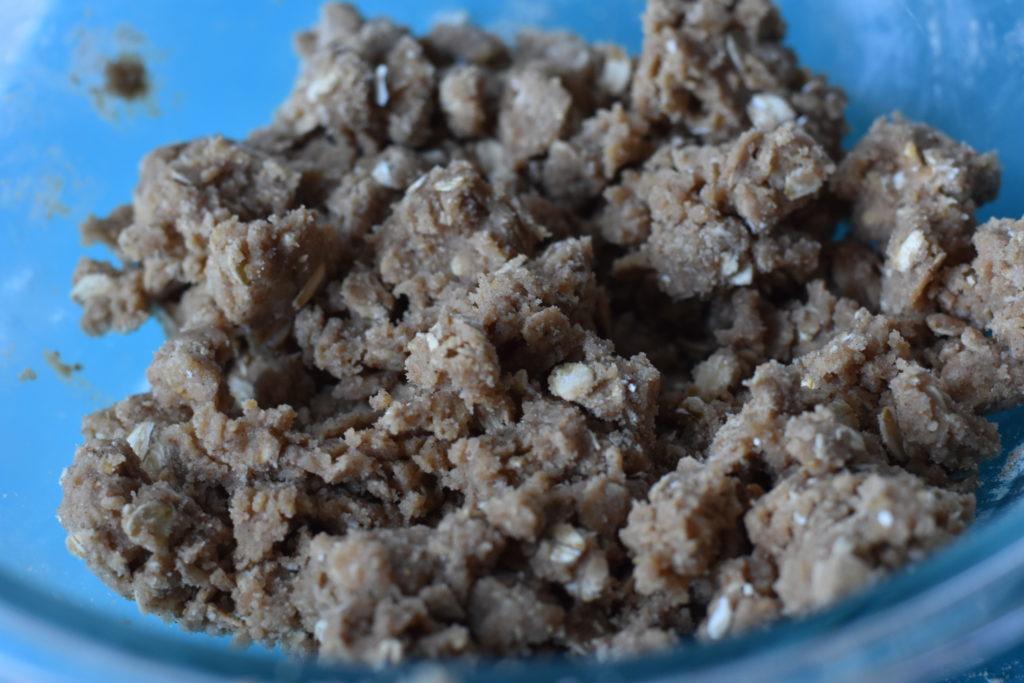 Now for the apples. We are lucky enough to live in such a fertile place and there are apple trees growing in and around our home that produce so much every year! These apples were from a summer producing tree. It makes small, green and tart apples which are perfect for baking! Adults will need to do most of the peeling and slicing. My kids were able to help chop apples into smaller pieces though and had a blast doing that. We use disposable plastic knives, or butter knives for our chopping projects so we don't have any bleeding fingers.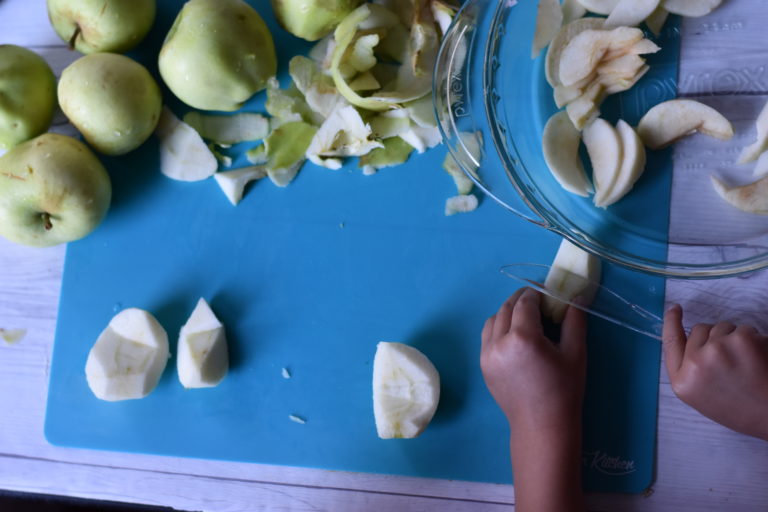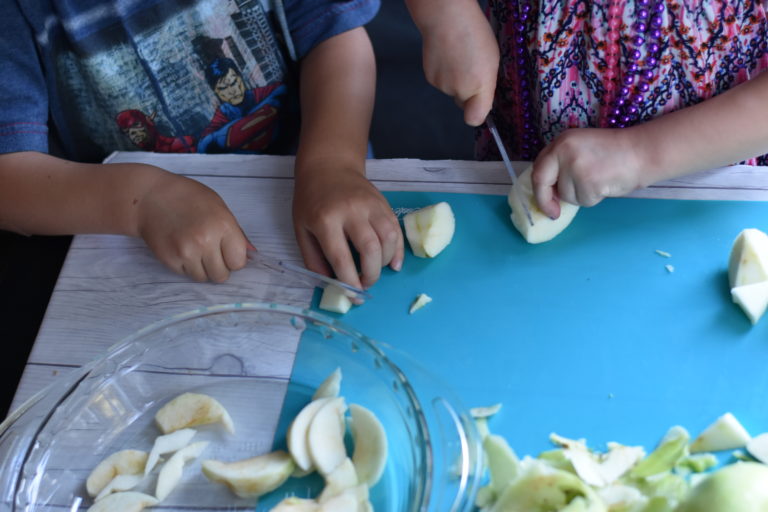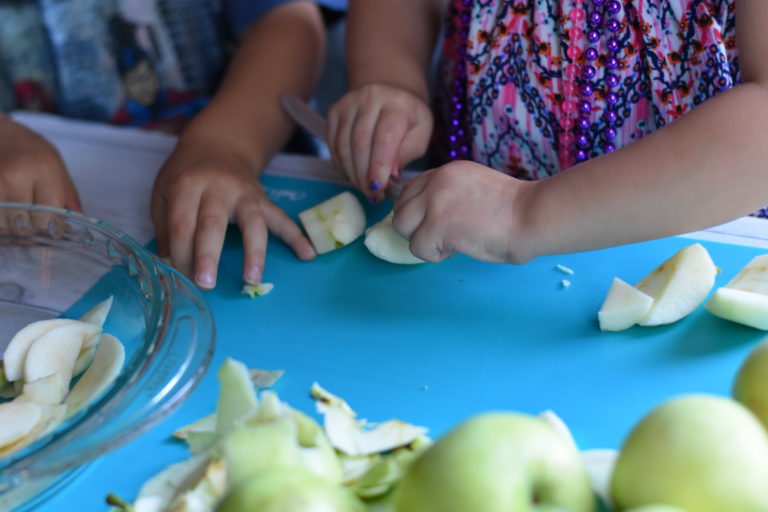 I love seeing how inventive my kiddos are when trying to chop – figuring out ways to hold the knife and what sizes to cut the apples into.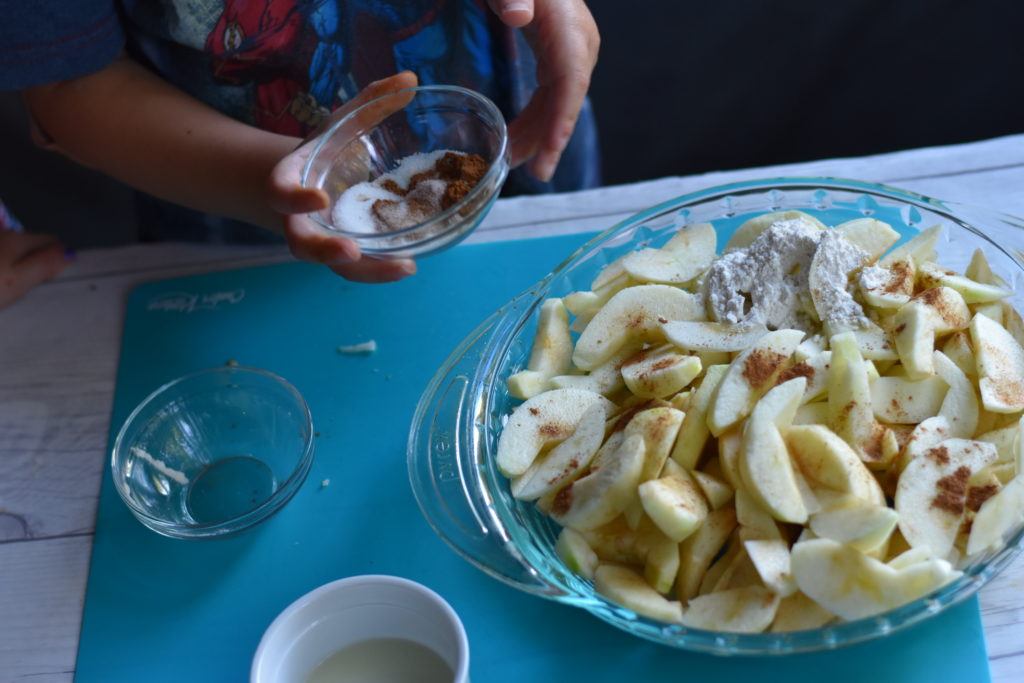 Next the kids helped by dumping in the filling ingredients on top of the chopped apples in the pie pan. And then we stirred it up until they are all coated and looking like this:
After this you crumble the topping evenly over the apples, and then you are ready to bake! My kids went for more of a "let's smash the topping flat" idea with our apple crisp. No matter how it ends up looking it tastes delicious!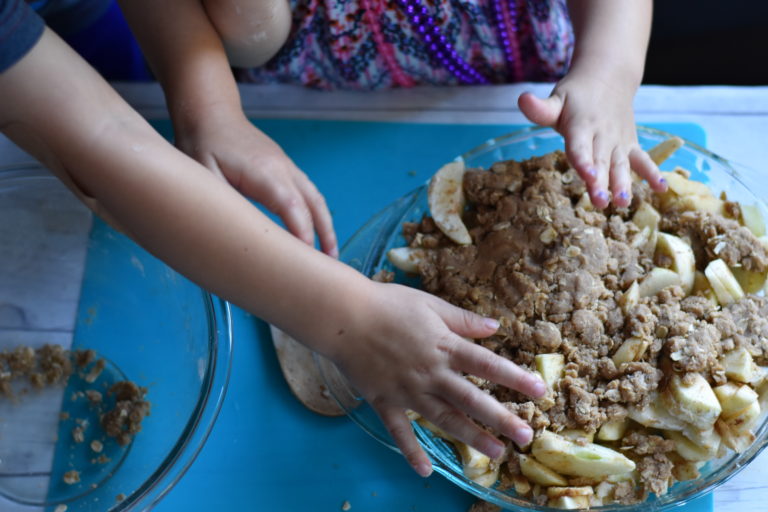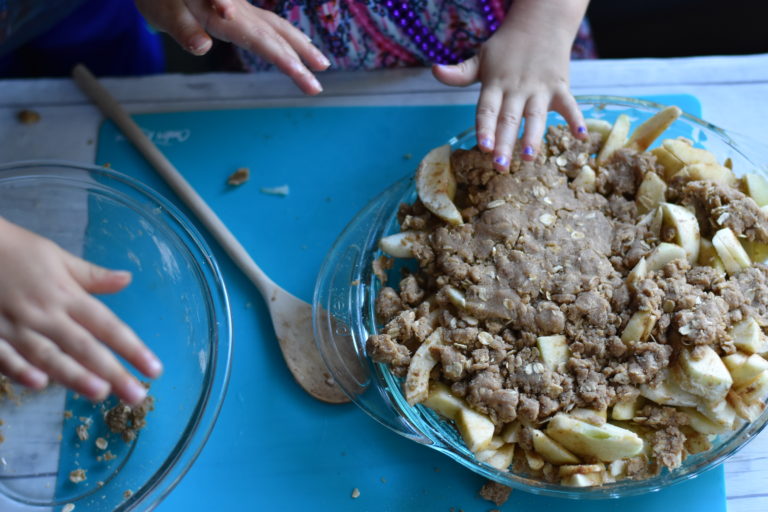 After about 30 minutes in the oven at 350F you have a delicious, warm and bubbly apple crisp. I love eating it warm with a scoop of vanilla ice cream. It adds just the right touch!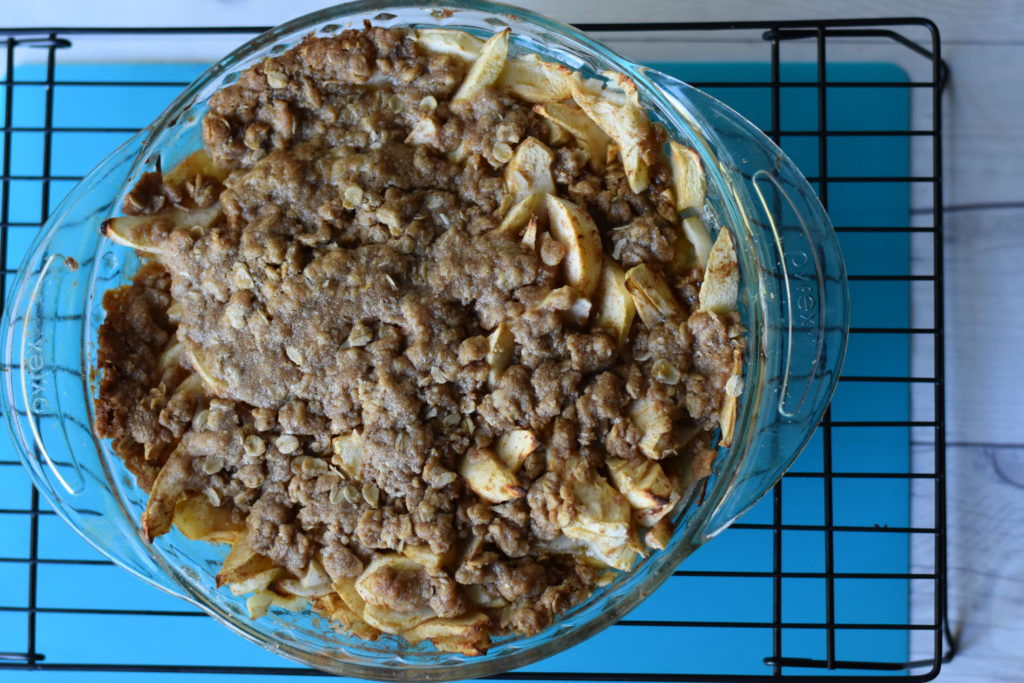 What are your favorite ways to use apples? Any simple dessert recipes we should try? Tell me all about it in the comments!!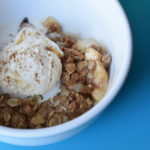 Apple Crisp
Ingredients
Topping
1/2

cup

butter @ room temperature (soft)

1/2

cup

brown sugar

1/2

cup

old fashioned oats

1/2

cup

white flour

1

tsp

cinnamon
Filling
1

Tbsp

sugar

1

Tbsp

flour

1/2

tsp

cinnamon

1

Tbsp

lemon juice

8

medium

baking apples
Instructions
Using a fork, smash together all the topping ingredients until well combined and crumbly.

Wash, peel and chop apples into thin slices.

In a pie pan, mix the chopped apples with the remaining filling ingredients until evenly distributed.

Sprinkle the topping evenly over the apple mixture.

Bake at 350F for 30 minutes or until bubbly and apples are tender when pierced with a fork.

Serve warm with vanilla ice cream and a sprinkling of cinnamon.
Recipe Notes
This is a family recipe from Bethany's mom Marie.
RELATED POSTS