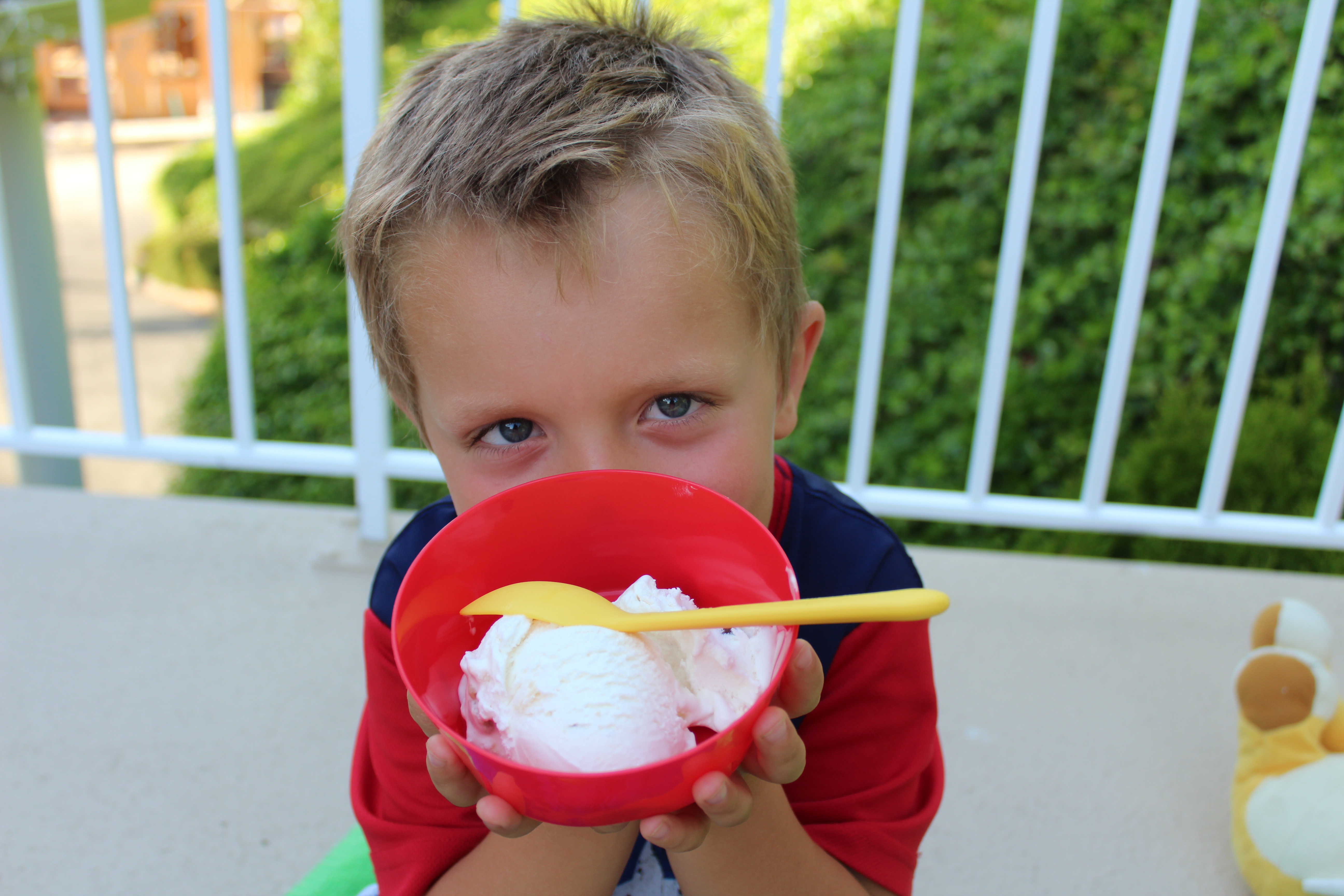 We like ice cream.  That's all there really is to say.  When it's hot outside, and the kids have been swimming all day and you just want to cool off… nothing sounds better than ice cream.  We have a friend who has an ice cream maker and I have been hesitant to invest because: why make ice cream when you can buy it?  BUT I tested it out this week, and now I know why.  Homemade ice cream is way better, way cheaper, way easy, and the kids love making it!  Here are a couple of fun recipes to test out!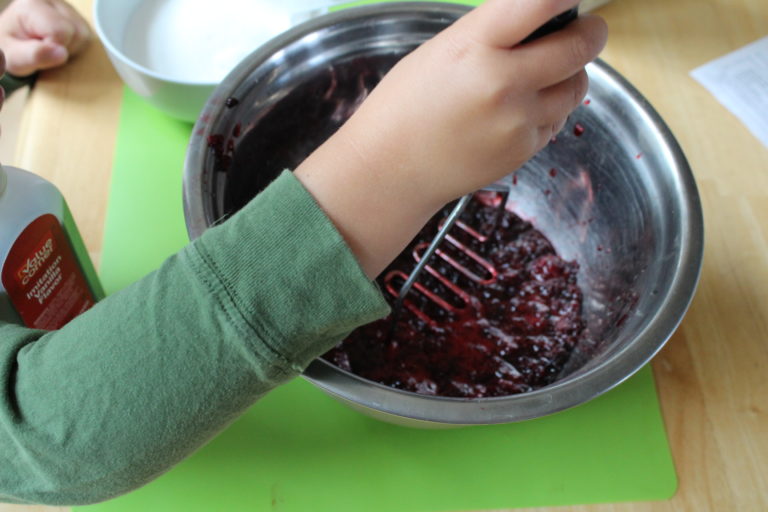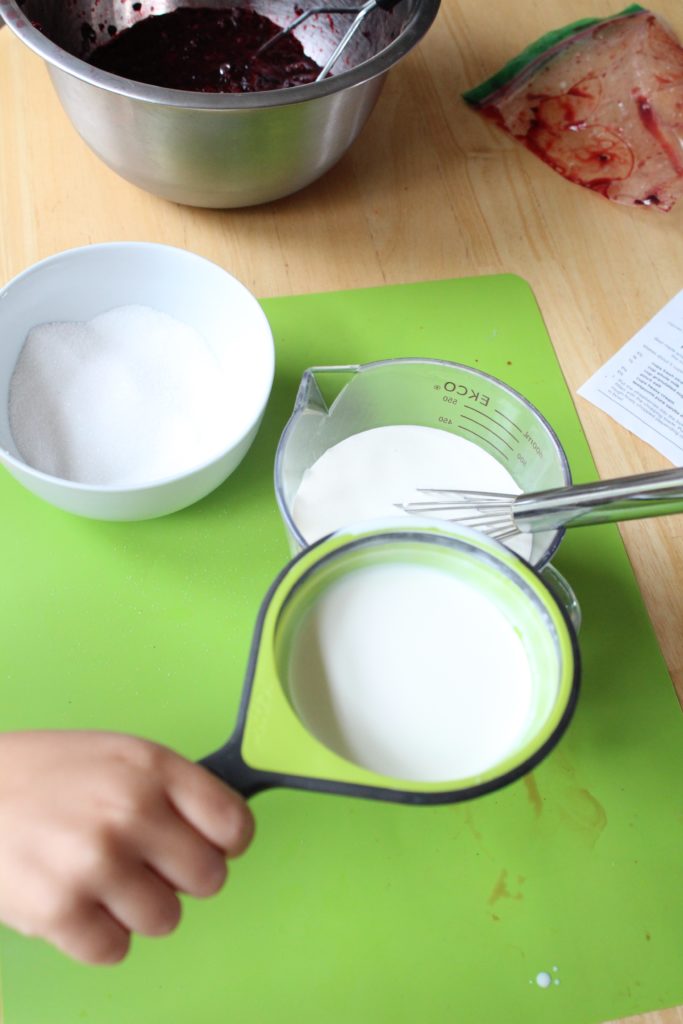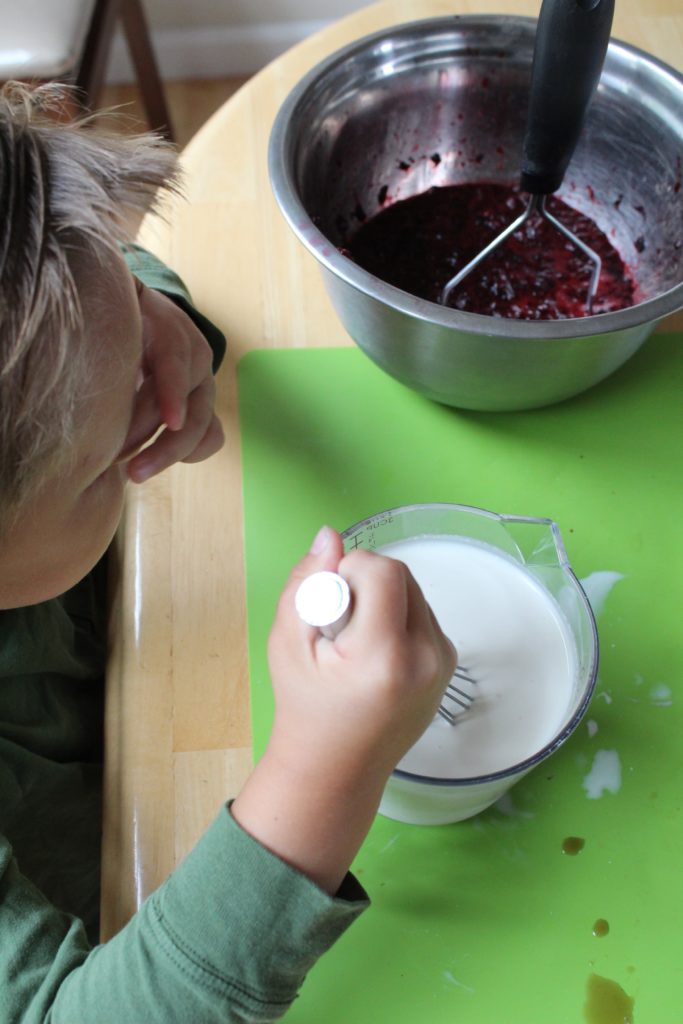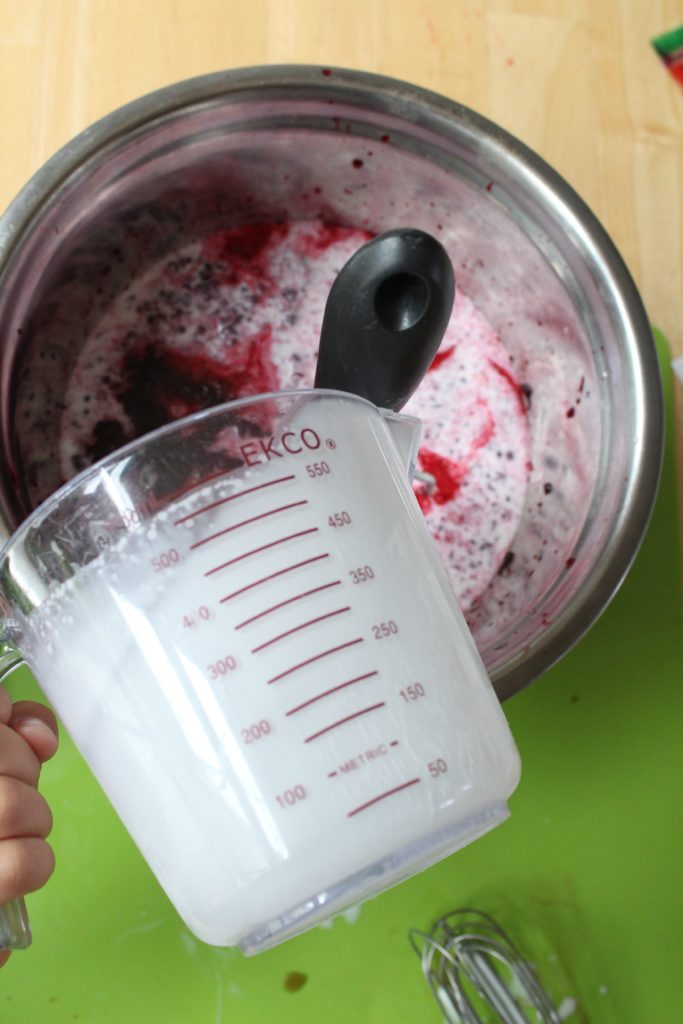 HOW TO GET THE KIDS INVOLVED
Really the kids can do most of this, so they are involved in the whole process.  With this specific ice-cream recipe you can thaw out ANY kind of berry and the results will be the same.  Strawberry, raspberry, blackberry, blueberry?  You choose, or better yet, let your toddlers choose.  They will LOVE that.  We have a frozen hoard of blackberries so we chose blackberries this time, although we plan on trying many more.
The kids loved squashing the berries until they were well juiced, stirring all the rest of the ingredients and pouring them in, and they love mixing.  Their favorite part however was WATCHING the ice cream in the maker.  They asked to take turns.  They loved watching it get harder and harder.  It was just amazing to them.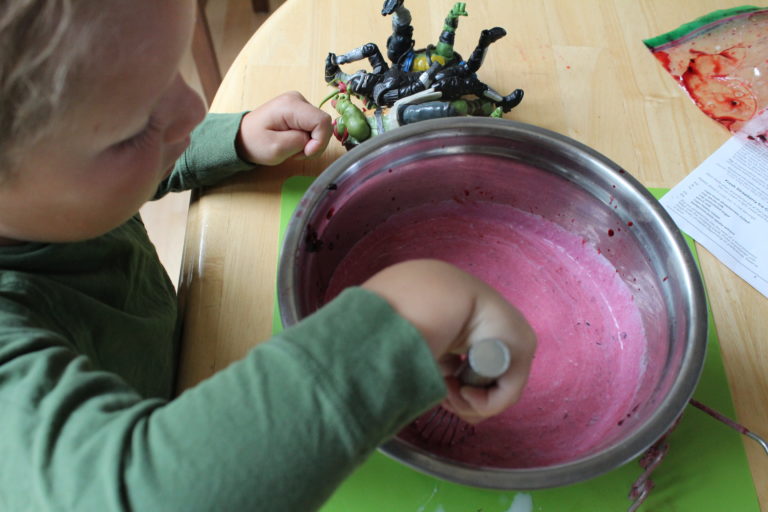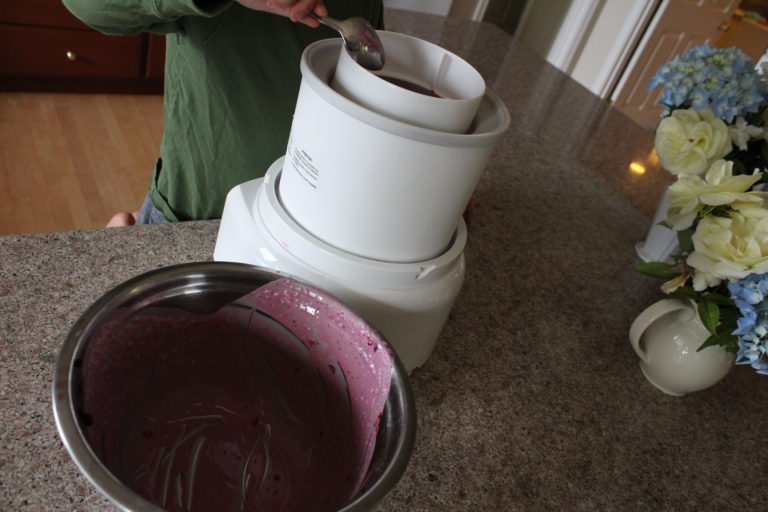 EDUCATE WHILE YOU BAKE
Measurements.  It's always awesome teaching your kids measurements.  Jack is starting to be able to figure out which measuring cups are bigger and which are smaller. The more I use the actual measurement names the more I find him understanding what I am referring to.
If you want to make this activity into a hands on scientific experiment or you want to take the opportunity to teach your kids how ice cream becomes ice cream, check out these awesome resources.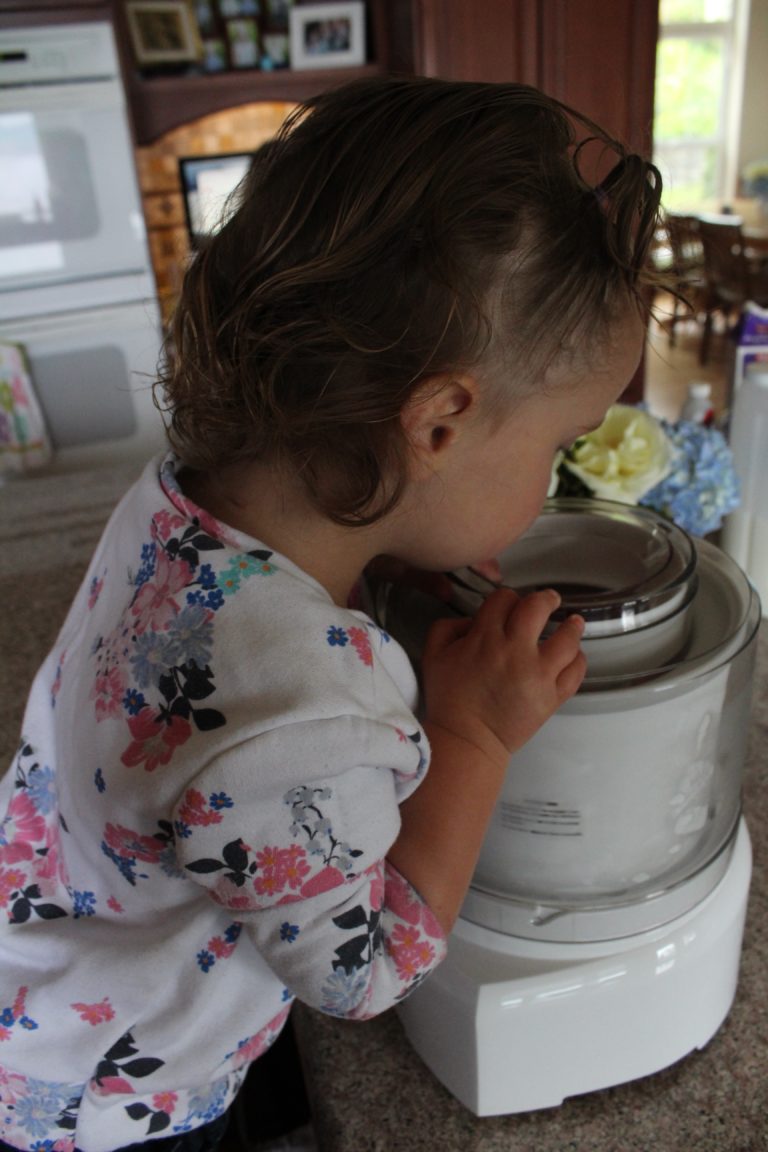 Check out another fun ice cream recipe below or this list of  ice cream maker recipes to try out with your kiddos. Or if you are looking for other  toddler made frozen treats, and berry smoothies to help cool you off this summer check out these links!
What are some of your kiddos favorite ice cream flavors?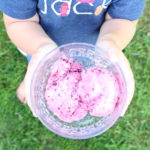 Any Berry Ice Cream
Ingredients
1 1/2

cup

any berries, thawed

3/4

cup

heavy cream

1/2

cup

whole milk

1/2

cup

sugar

1

tsp

vanilla extract

1

pinch

salt
Instructions
Smash the berries together until the big chunks are gone, or if you don't like berry chunks in ice cream- blend the berries.

Add the rest of the ingredients together and stir. Pour the ingredients in with the berries and mix

Turn on the ice cream maker and pour it all in. Let the kiddos watch until it's all done and ready to eat. Usually about 15-20 minutes
ADULT TASKS- Helping the kids to pour the liquid ingredients, and pour all the ingredients in the ice cream maker.
KID TASKS- Putting berries in bowl, smashing them, pouring and mixing ingredients. Turning on ice cream machine- love this! Watching with fascination until it's all done.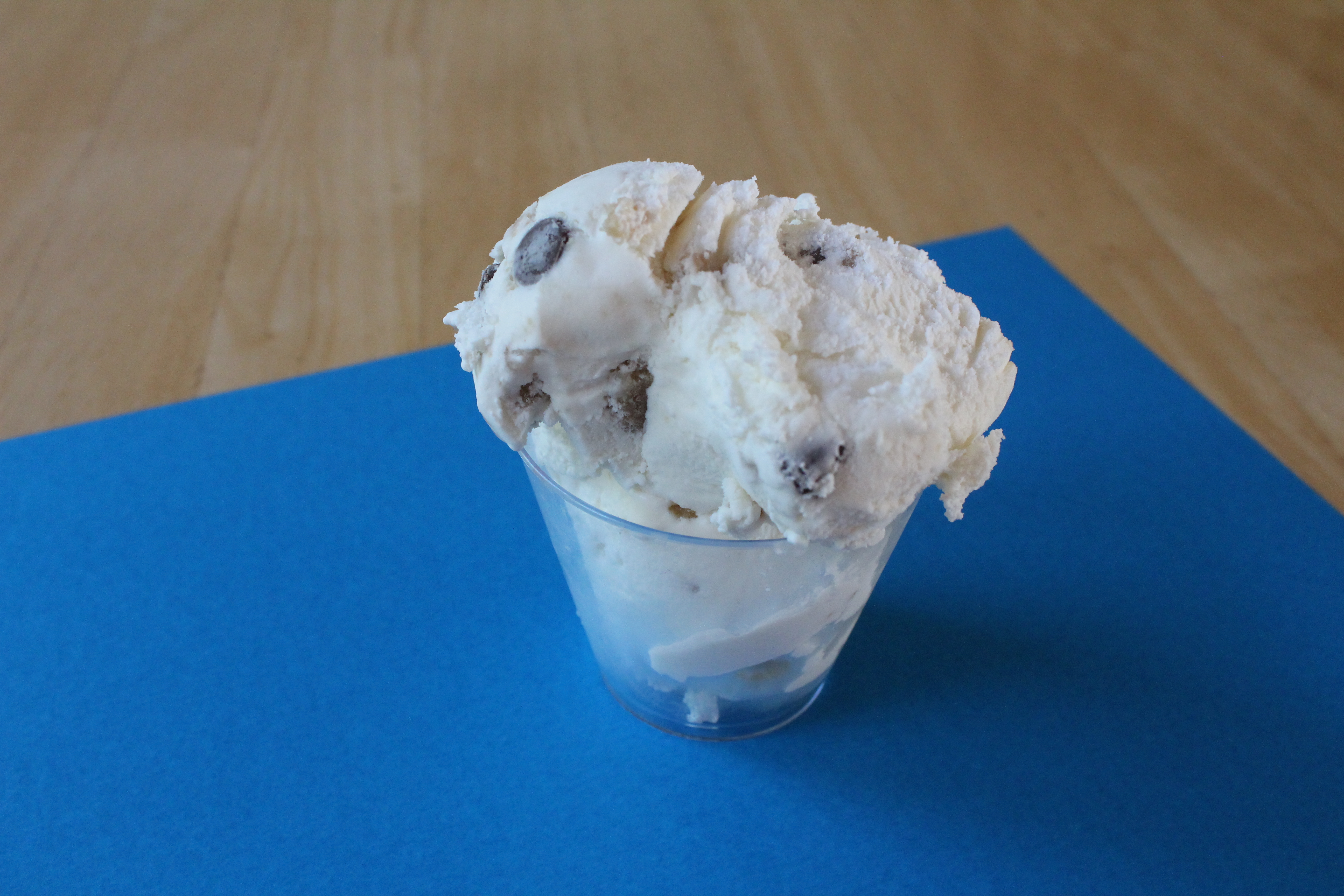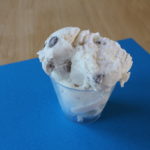 Cookie Dough Ice Cream
Ingredients
Cookie Dough
5

Tbsp

Butter, melted and slightly cooled

1/3

cup

light packed brown sugar

1/2

cup

flour

1/2

tsp

vanilla extract

1/2

cup

chocolate chips, chopped
Ice Cream
2

cups

heavy cream

1

cup

half and half (I just used whole milk with a little heavy cream)

3/4

cup

sugar

1

tsp

vanila extract
Instructions
Mix together butter and brown sugar until smooth. Add the vanilla extract and mix well, then add the flour and chocolate chips.

Store in the freezer until the ice cream is ready. This will keep the cookie dough chunks hard in the ice cream.

Mix all the ice cream ingredients together and stir until smooth. Turn on the ice cream machine and pour in all the ingredients.

When the ice cream begins to harden start adding the cookie dough in small tsp. sizes.

Store in the freezer- or just do what we did and eat it!
ADULT TASKS: Getting ingredients together and helping kiddos pour them and mix them.
KID TASKS: Mix ingredients together, turn on the ice cream machine (love this part), help pour it all in. Watch it close! Let them add the cookie dough in little bits- so much fun for them.
RELATED POSTS