Cooking with toddlers is quite an adventure! Toddlers are so eager to help and yet not in control of their fine and gross motor skills – so you're sure to have a mess! I find that when I pick 1-2 tasks from a recipe that I am making for the family, and delegate those to my toddlers, we have a lot of success, and less of a mess! I've compiled a round up of my toddler's favorite kitchen tasks, and my favorite recipes for each one. I hope you find joy cooking with your toddlers!
1. Cooking with Toddlers: Dumping!
DUMPING INTO THE BLENDER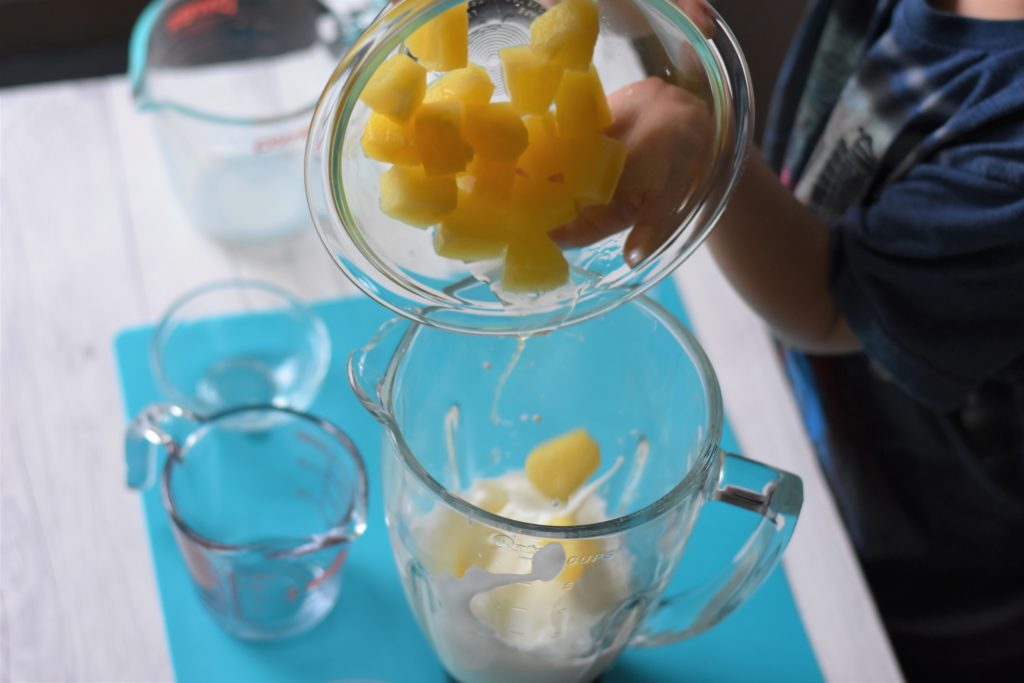 Try cooking with your toddler using these delicious flavors of popsicle! When you are using a blender while cooking with toddlers, be careful not to allow your child to touch the sharp blades – but feel free to have them help dumping in the ingredients!
POURING INTO POPSICLE MOLDS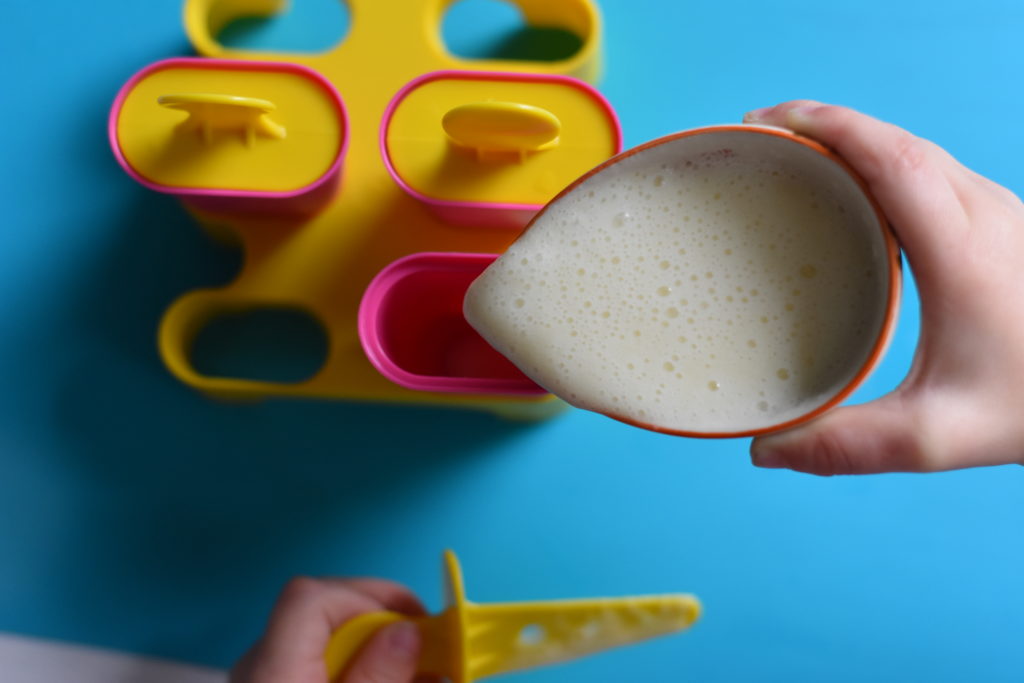 Popsicle making is a great recipe for cooking with toddlers. Pouring the blended ingredients carefully from a container into the molds is a bit tricky – expect some spills – but your toddlers will enjoy seeing this liquid turn into a frozen treat. Cooking with toddlers has never been so delicious! These pina colada popsicles are super yummy and worth making! It tastes like a tropical vacation 🙂
DUMPING INTO THE FOOD PROCESSOR
Dumping ingredients into the food processor is a no brainer. It's nice that the ingredients can go in any order without messing up the final product. These banana bran muffins were not only fun to cook with my toddlers but also delicious for breakfast. Feel free to stick the cooled down leftovers into a freezer ziploc. Now you have an easy breakfast or on the go snack!
MEASURING LIQUIDS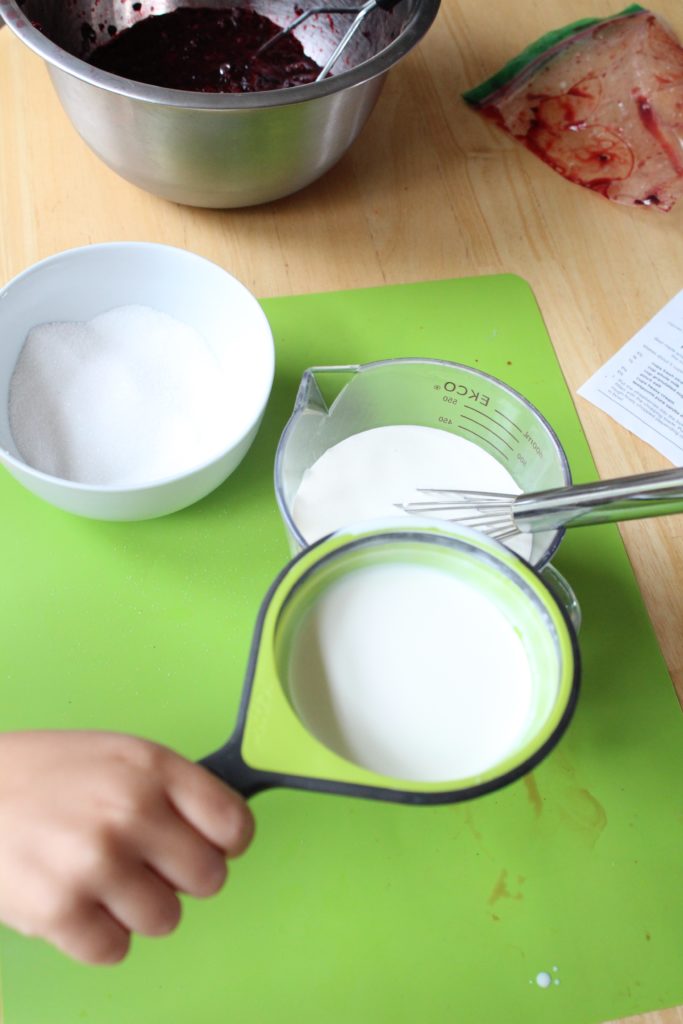 Although measuring may be a challenge when cooking with toddlers, and the measurements may not come out perfect, it's a great teaching moment. Cooking with toddlers becomes a science experiment when pouring ingredients to an exact amount, and your kitchen becomes a laboratory for learning! Cooking with toddlers makes measuring ingredients an adventure. Try these easy ice cream recipes for some toddler learning and a delicious family treat, any time of year!
2. Cooking with Toddlers: Chopping!
CHOPPING HARD BOILED EGGS
Hard boiled eggs are a great ingredient to work with in the kitchen with toddlers! Not only can they learn to peel the eggs, they can easily chop them without a sharp knife! Try this recipe for an easy lunch today!
SLICING BANANAS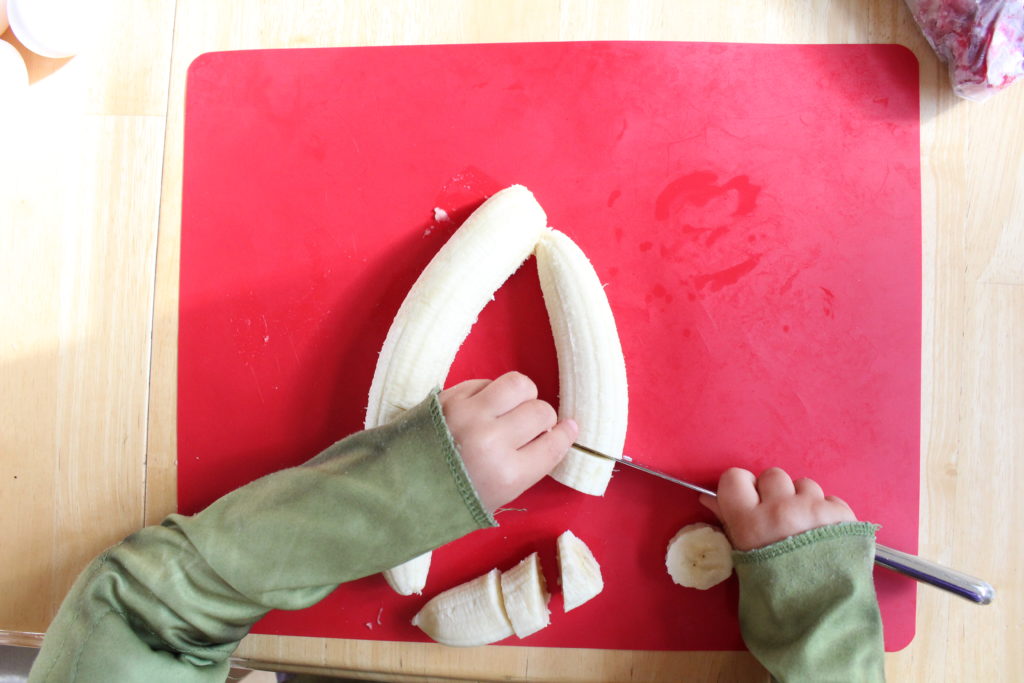 I love having the kids chop soft fruits like banana that don't require a *sharp* knife. When cooking with toddlers it's important to keep them safe. In our kitchen my kids use butter knives, or plastic knives, without a sharp edge. This recipe is so easy! Only three ingredients: egg, banana and raspberries.
CHOPPING STRAWBERRIES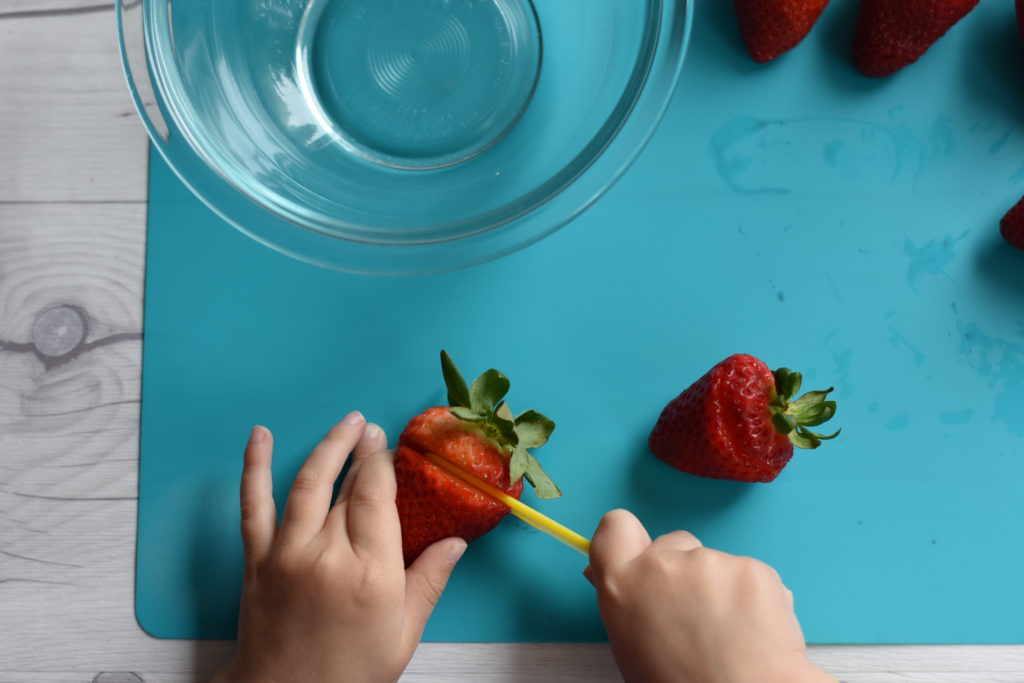 Cooking with toddlers is so fun when they are using fresh fruit! This is my favorite recipe for June, when strawberries are in season. Sometimes toddlers don't have much patience in the kitchen. When we were making this pie, the kids only chopped 2 strawberries for me before they ran off. But it was so worth it! This fresh strawberry pie is delicious every time. Cooking with toddlers can produce delicious results!
3. Cooking with Toddlers: Spreading!
SPREADING ICE CREAM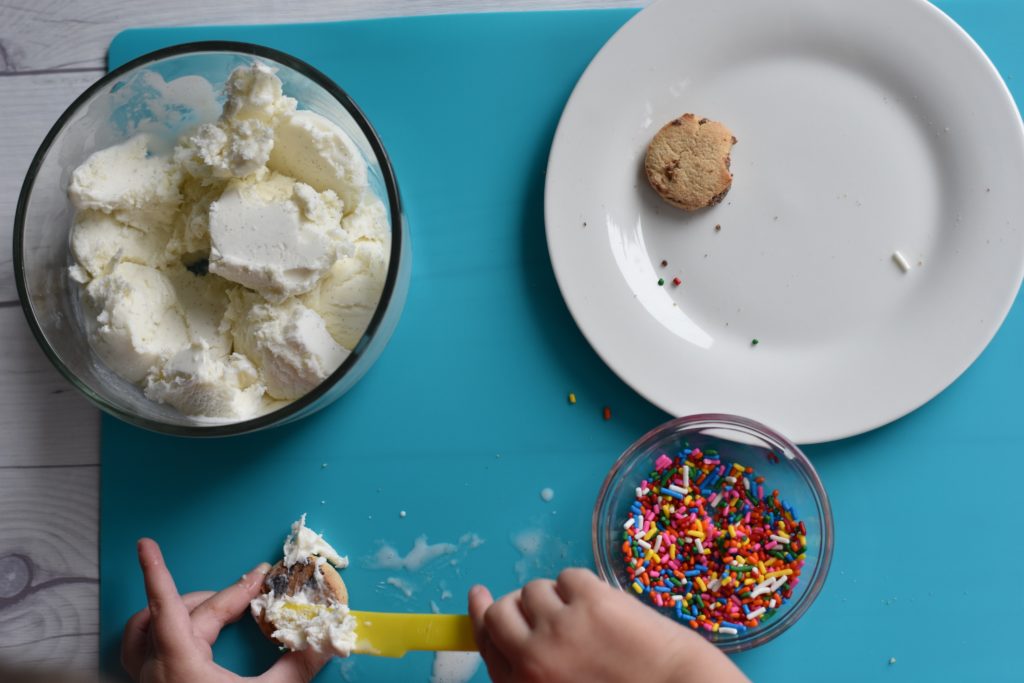 These little treats are so much fun to make! It was fun for my toddlers to experience the temperature difference as they felt the ice cream with their little fingers. These were incredibly easy and simple. They also gave them practice spreading with a knife! What a great little kitchen skill to learn. Cooking with toddlers for the win!
SPREADING HUMMUS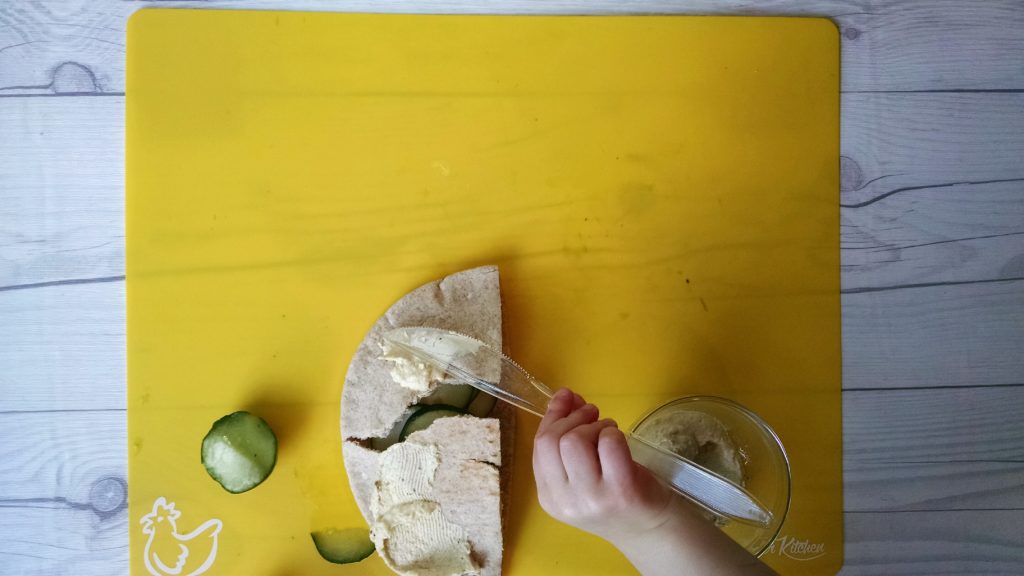 Cooking with toddlers is a great way to introduce new foods and encourage healthy eating. I love exposing my kids to veggies! This little pita lunch was really fun to make. My little miss two spread hummus all over the top instead of inside the pita… but the end result was still delicious! Out of the whole cooking experience, my two year old's favorite ingredient was the hummus – she ate it by the spoonful!
SPREADING PEANUT BUTTER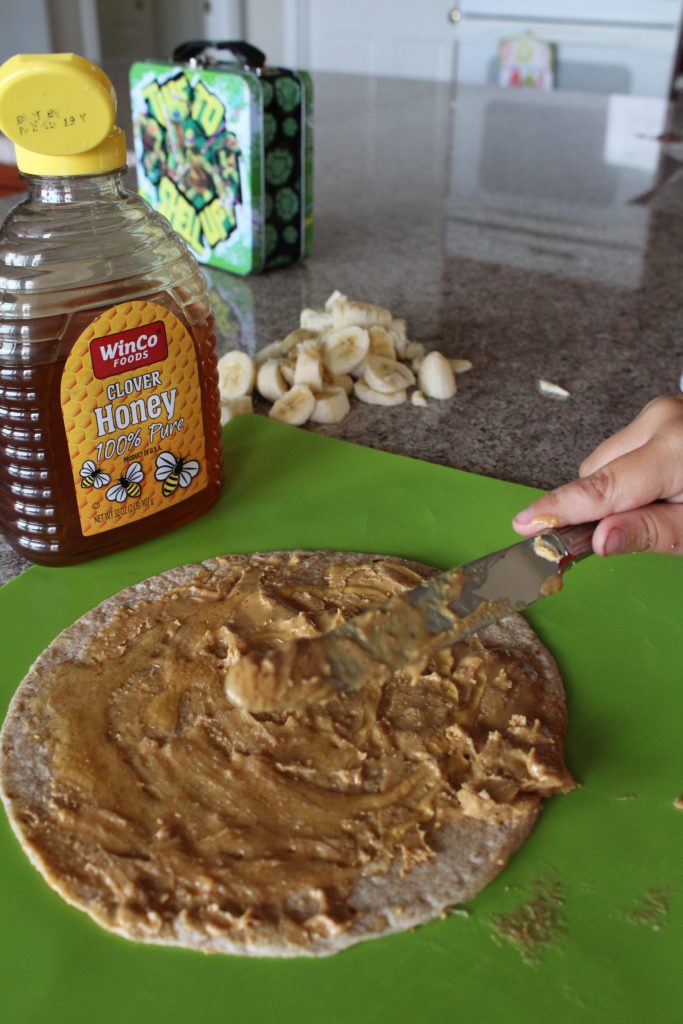 Yum, peanut butter. My kids love this stuff! Most days we have peanut butter and jelly, or honey, sandwiches in our lunch. This is a variation on the classic by switching out the bread with a tortilla! Tortillas are awesome for toddlers to work with because they don't break and crumble as easily as bread. In this recipe your toddler can spread peanut butter and honey on the tortilla, and also roll it up! Cooking with toddlers just got that much more fun 🙂
PAINTING WITH A PASTRY BRUSH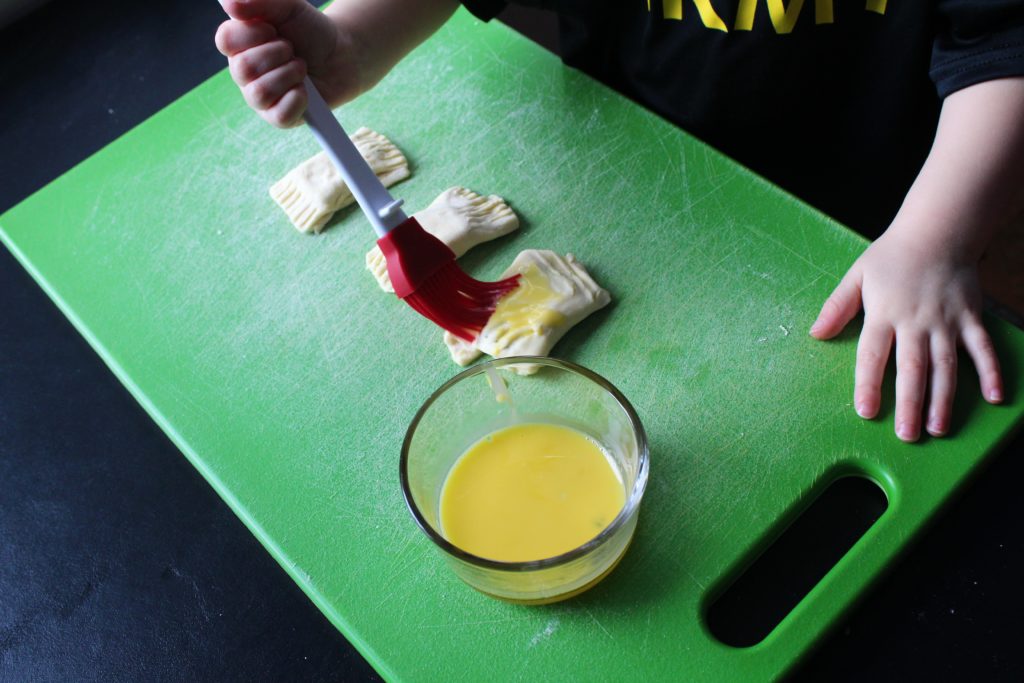 As an alternative to spreading with a knife, using a pastry brush is a fun and easy way to get a substance spread out! These 3 ingredient chocolate croissants ask for an egg wash that adds shine after they bake. My two year old loves to paint! It's fun to include painting in the kitchen as well! Yay for painting while cooking with toddlers! What are your favorite recipes that require use of a pastry brush? Let's get painting!
4. Cooking with Toddlers: Squishing!
SQUISHING IN A BAG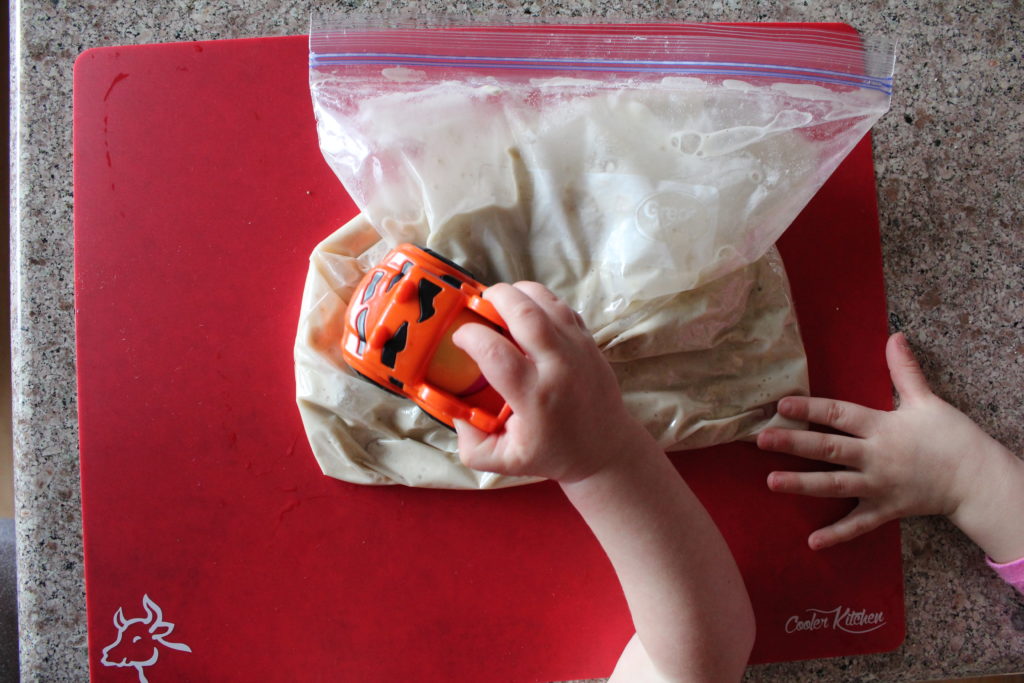 For a recipe that minimizes the mess, try making bread in a bag! Using the bag keeps the dough ingredients contained while allowing the kids to squish to their hearts content. Above you see one two year old using her toy car to squish the bag – so cute! I love seeing the kids personalities come out while we are cooking with toddlers!
KNEADING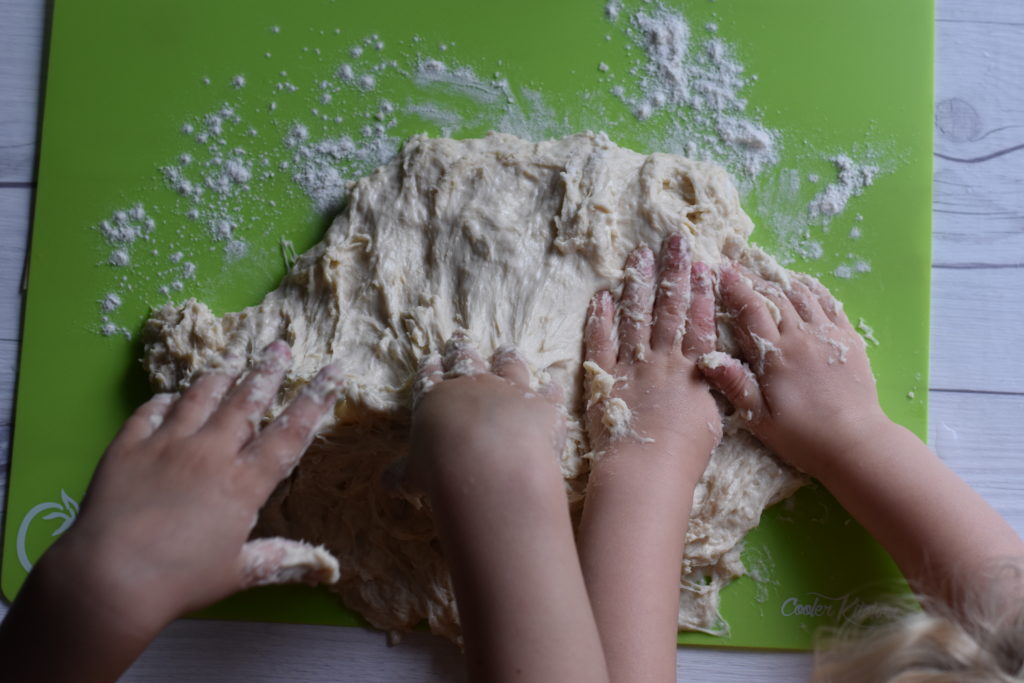 This easy french bread recipe has many simple steps that toddlers will enjoy. Not only can they dump in  and mix the ingredients in the bowl, they can enjoy squishing the wet dough with their little hands! My four year old's quote was a delighted "Mom, this is the messiest!" Sometimes when cooking with toddlers, a mess can be fun! Make sure you use flour on their hands and the dough for a little less stickiness. I absolutely LOVE this french bread. It's delicious and turns out great every time!
FORMING BALLS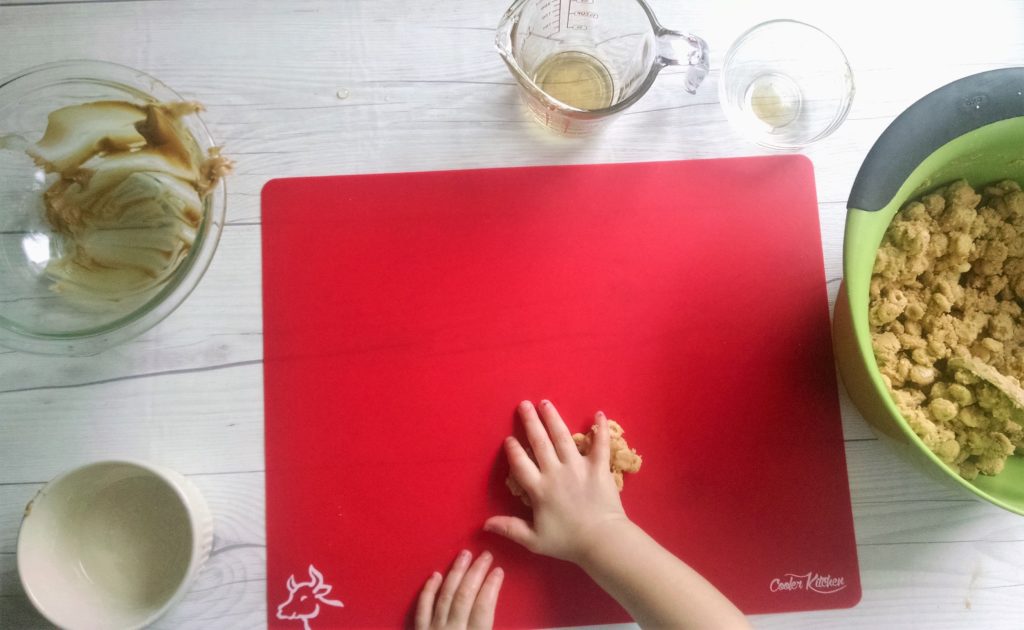 These super duper easy cereal balls are a no bake recipe that you can make with mostly pantry ingredients. My two year old did all the work with just a little assistance! When it came time to form the "balls" she actually preferred making them into pancakes. She also ate the stuff straight out of the bowl – why not when you are the chef?? Overall this was a positive cooking with toddlers experience. These can keep in the fridge and you could add them to your lunch as a side, or eat them for breakfast!
4. Cooking with Toddlers: Mixing!
WHISKING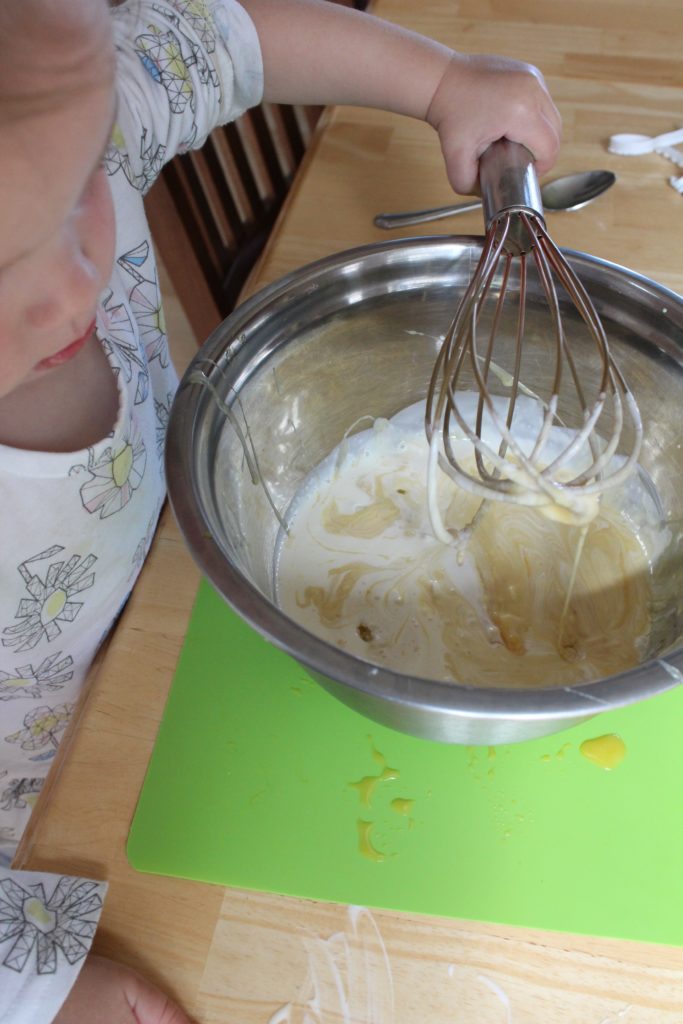 Megan and her kiddos made these amazing and simple orange creamsicles. She told me her husband came home and DEVOURED them all, then asked for more! In my experience toddlers love to stir, so whisking these ingredients was a great task for this 2 year old! Cooking with toddlers can result in some pretty delicious results, and be a fun experience to boot!
MIXING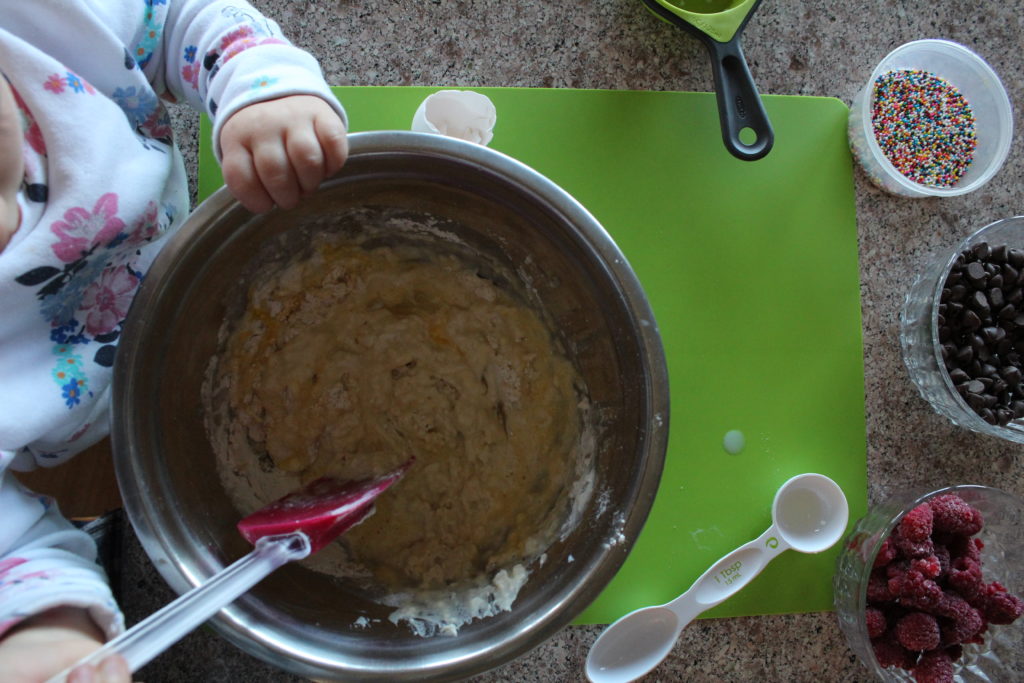 While making the batter for these fun mini muffin pancakes, 2 year old assistant got to be the mixer! After mixing the batter, and putting it into the muffin tins, these kids got to chose toppings to sprinkle over them. Most breakfast recipes require a little bit of mixing so this is a great opportunity to hand over the bowl and have some help! Cooking with toddlers can make life easier especially if they are involved consistently. What a great way to start out the day!
STIRRING
This simple little recipe is made in one bowl and finished in 5 minutes! Use your leftover rice, stir in some milk, sugar and butter – and voila you have rice pudding! Little miss two loved stirring these ingredients together after she dumped them in. Yum!
5. Cooking with Toddlers: Fruit!
JUICING ORANGES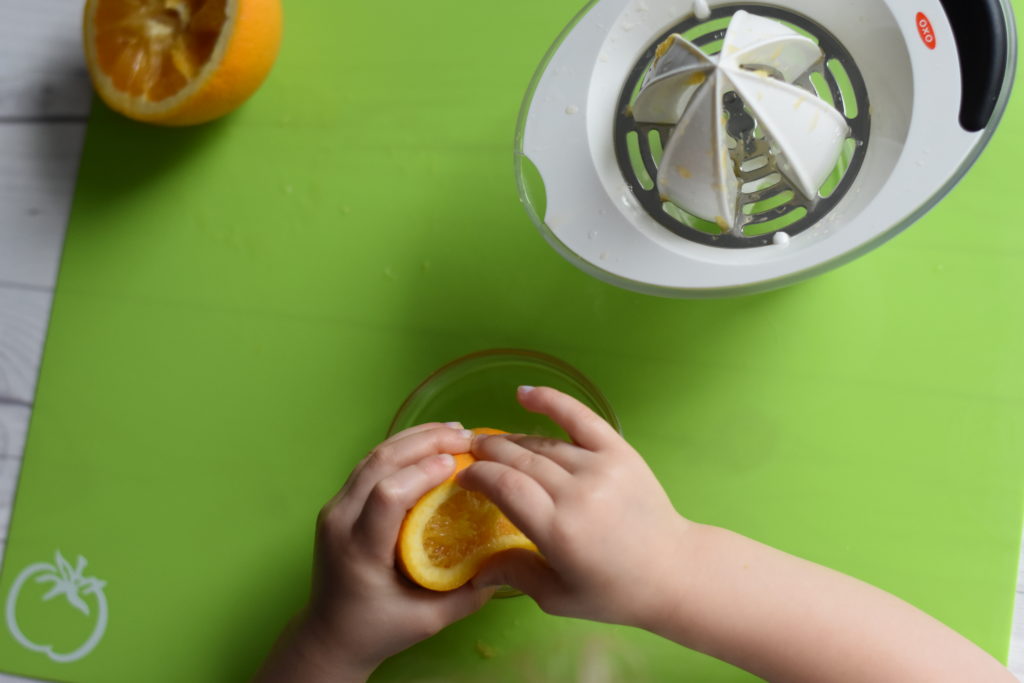 I absolutely love these marmalade muffins! When you finish baking them there is a delicious brown sugar and fresh squeezed orange juice glaze to go over the top, and it soaks into the warm muffins – DIVINE! Squeezing the juice from these oranges was a fun activity while cooking with toddlers! My two year old loved drinking the freshly squeezed juice. We tried using the juicer and it was a bit difficult to coordinate. But just using her hands she was able to squeeze quite a bit of juice out into a bowl. Fun times in our toddler test kitchen!
JUICING LIMES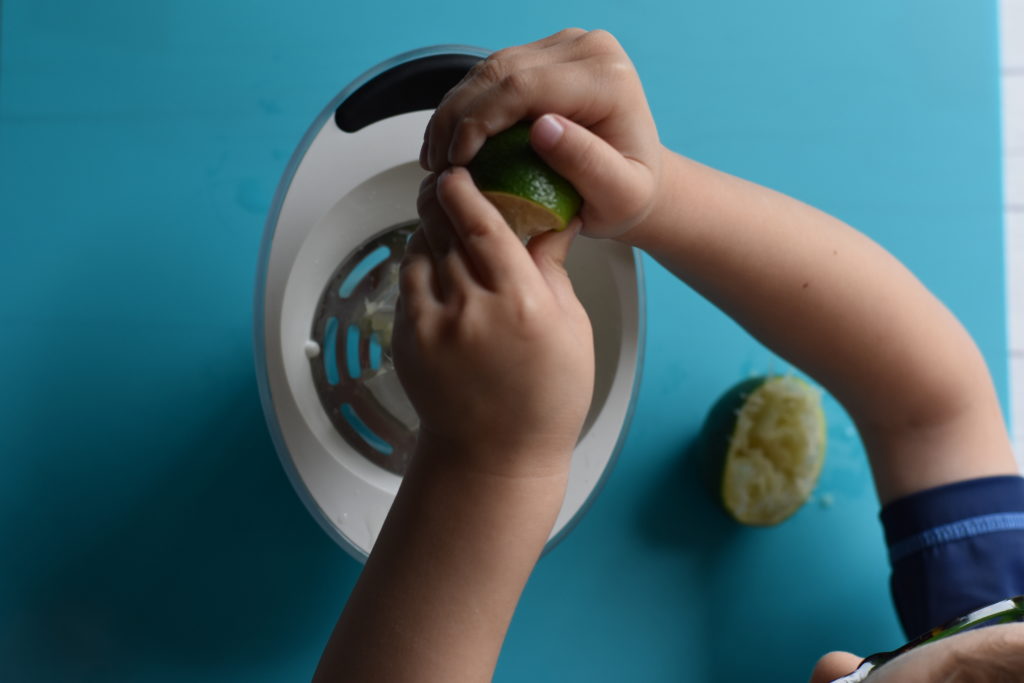 Juicing limes is another fun squeezing activity to do while cooking with toddlers! I'm linking one of my favorite recipes with this one – these taquitos are one of my go-to dinners that we eat all the time! I love that I can make a big batch and stick them in the freezer to eat anytime, and it tastes fresh and homemade. They only take 15 minutes from freezer to table! Plus, the smell of freshly squeezed lime is something I just love!
PULLING GRAPES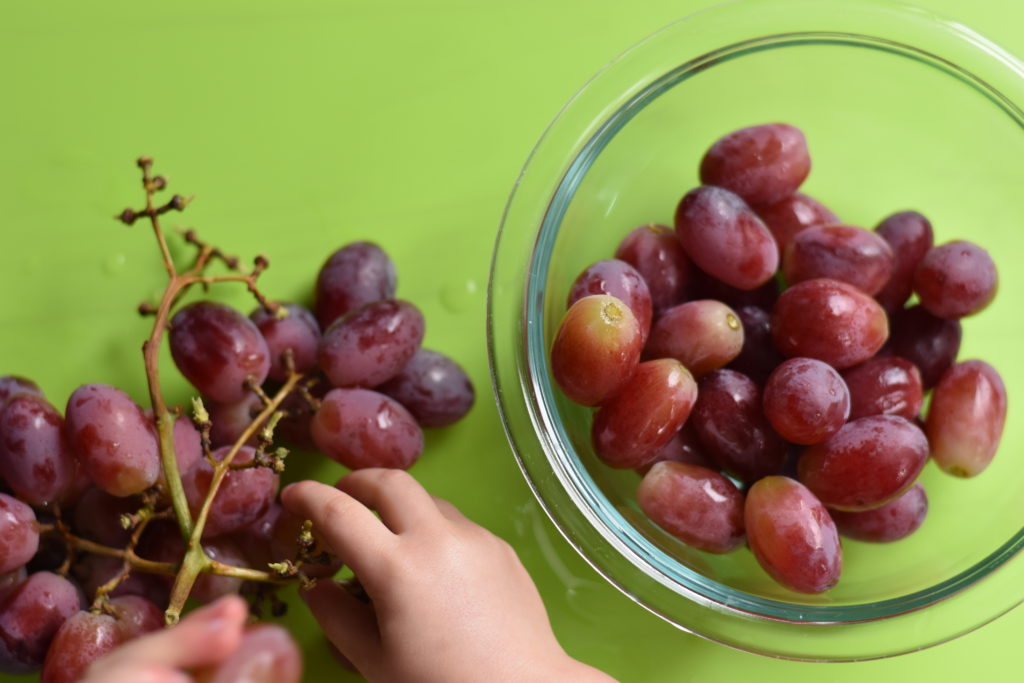 This activity is so simple and repetitive, which is why it's perfect for cooking with toddlers. Pulling the grapes off the vine and sticking them in a bowl, that's all it is! We used these grapes to make a simple fruit salad.
MASHING BANANAS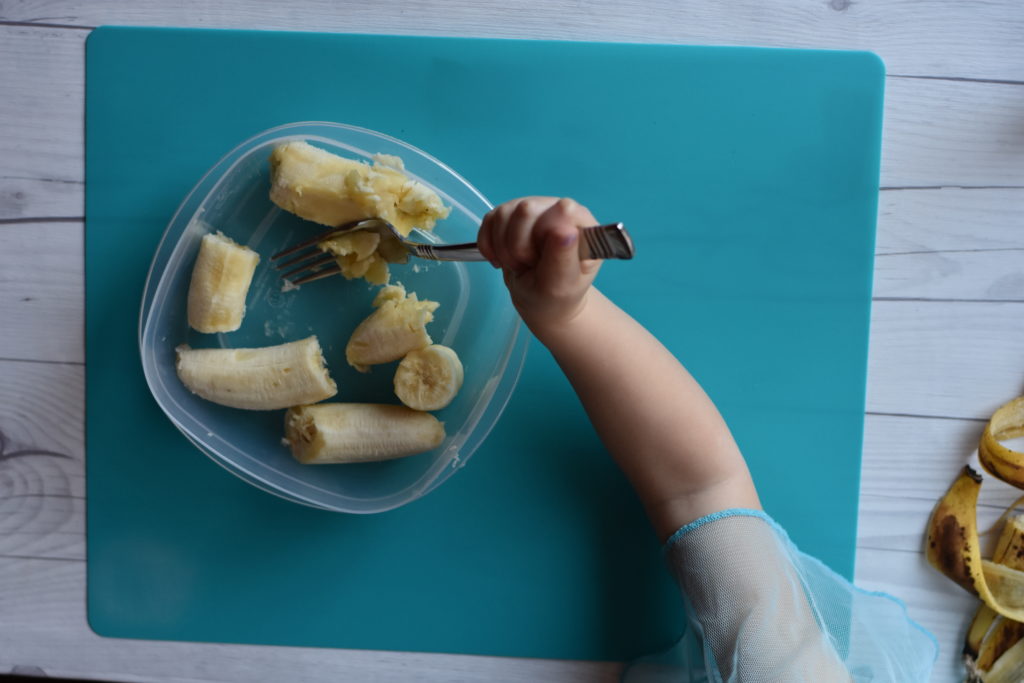 Oh how I love banana bread! I often buy a few extra bananas just hoping they will go brown and I can have an excuse to bake 🙂 Mashing up bananas with a fork or a potato masher can be super fun! My toddlers also enjoyed peeling them. None of us love bananas plain so we put them in smoothies quite a bit. Cooking with toddlers can fit right into your normal baking/cooking routine at home!
6. Cooking with Toddlers: Tasting!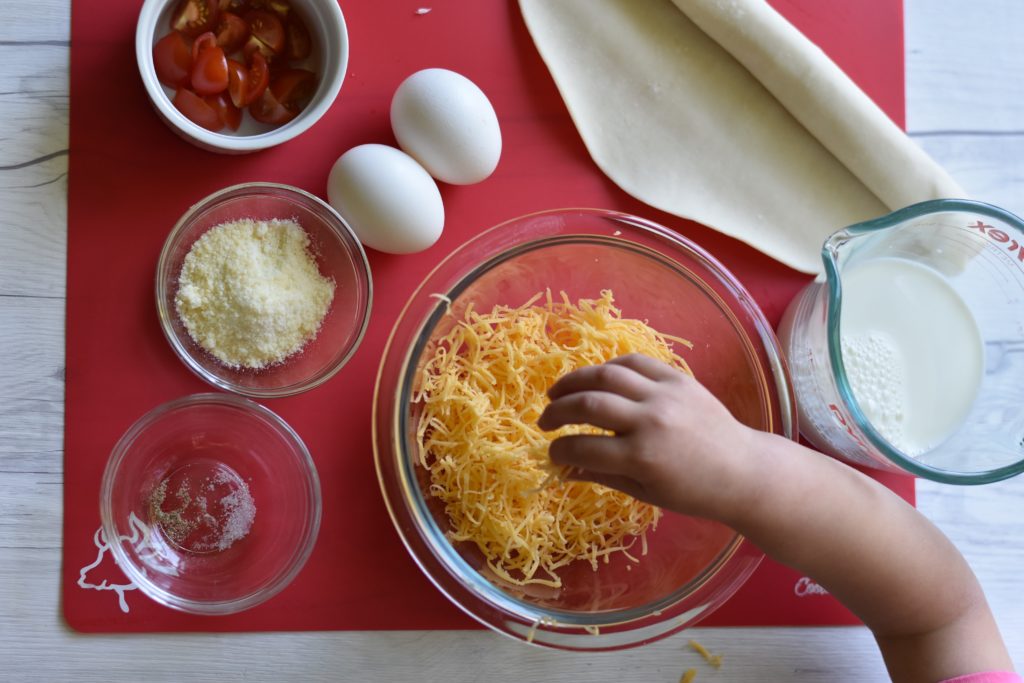 When I am making dinner, I don't always cook with my toddlers, but they almost always want to help! As I was making these mini quiches my daughter saw the shredded cheese and came running! In fact, she finished off this entire bowl. I had to shred more to use for the recipe! Cooking with toddlers is also an eating experience. As you create delicious foods the toddlers are able to touch, taste and experience the ingredients.
7. Cooking with Toddlers: Cleaning!
WIPE DOWN THE COUNTER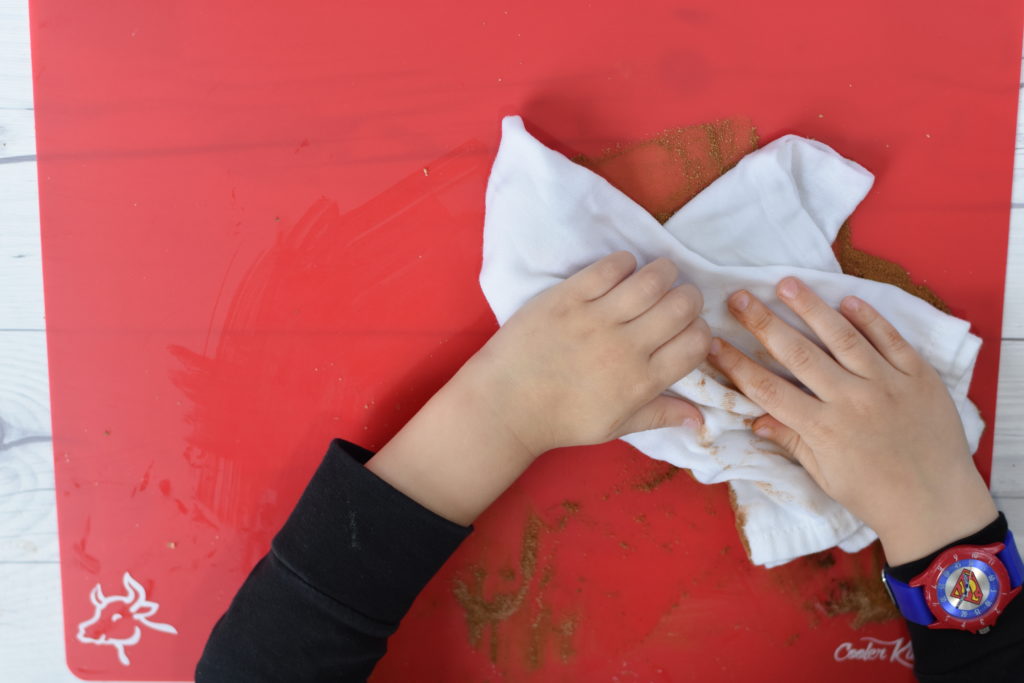 Cleaning is a natural part of the cooking process. It's not my favorite part, but it must be done! Wiping down the counter is a great idea to teach these cleaning tasks. After we created these cinnamon toast hearts, the surface was covered in cinnamon, so here is Mr. Four wiping it down and cleaning it up.
And that's a wrap! I hope you found something here that you can enjoy doing with your toddler in the kitchen. What are your toddler's favorite kitchen tasks? Besides licking the brownie batter bowl 😉 I'd love to hear about it in the comments!
RELATED POSTS