Want an easy back to school snack?  Trail mix is the perfect thing!  It's super easy, your kids can make it by themselves and the combinations are limitless!  We love going to a bulk store and just buying things in big quantities then making our own trail mix.   It is so much cheaper then buying it at the store and it tastes a lot better.
KIDS GET INVOLVED
Trail mix is the funnest thing to make with toddlers EVER.  Probably because there are so many different combinations to choose from, it is super easy, and it is really fun to let your toddler just experiment and go nuts… literally.  Jack and Nora always put in a few too many chocolate chips or raisins, but let's be honest.  That's probably one of my favorite parts as well.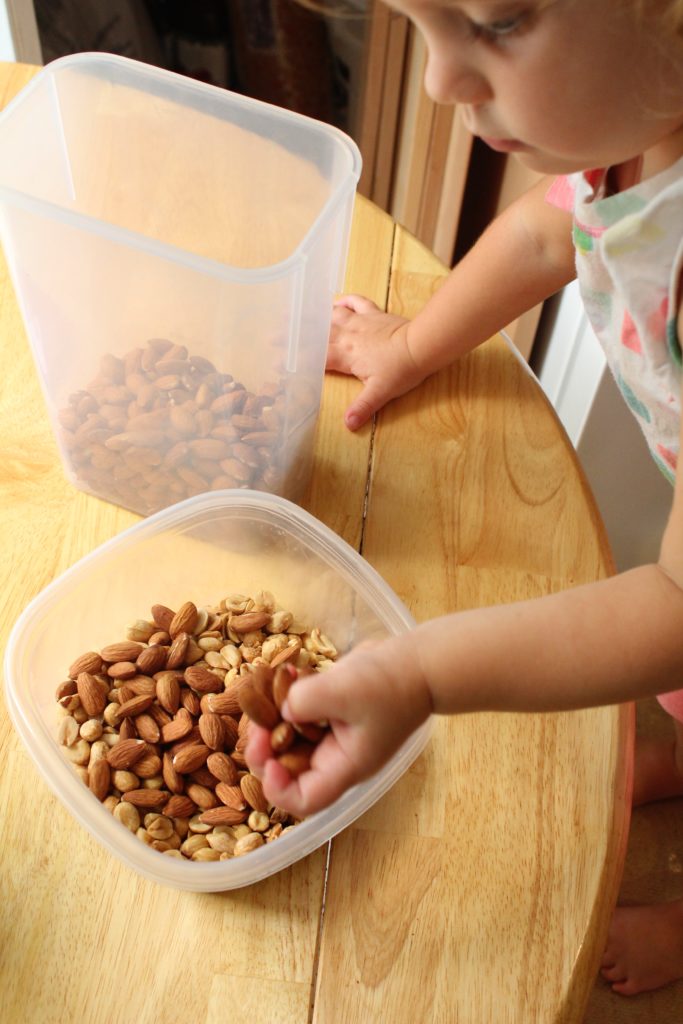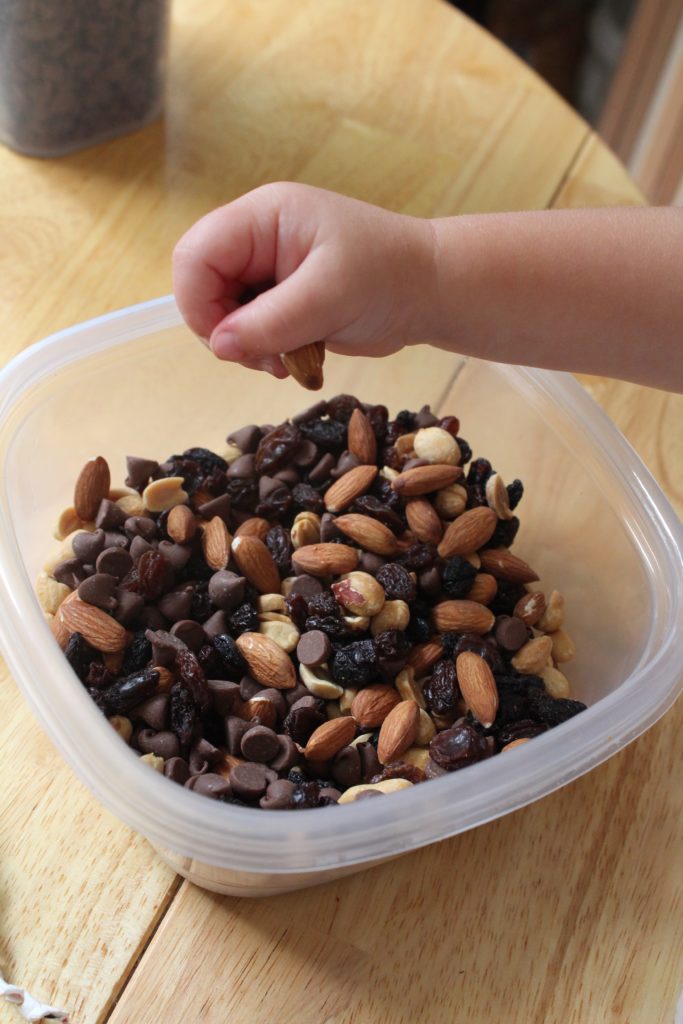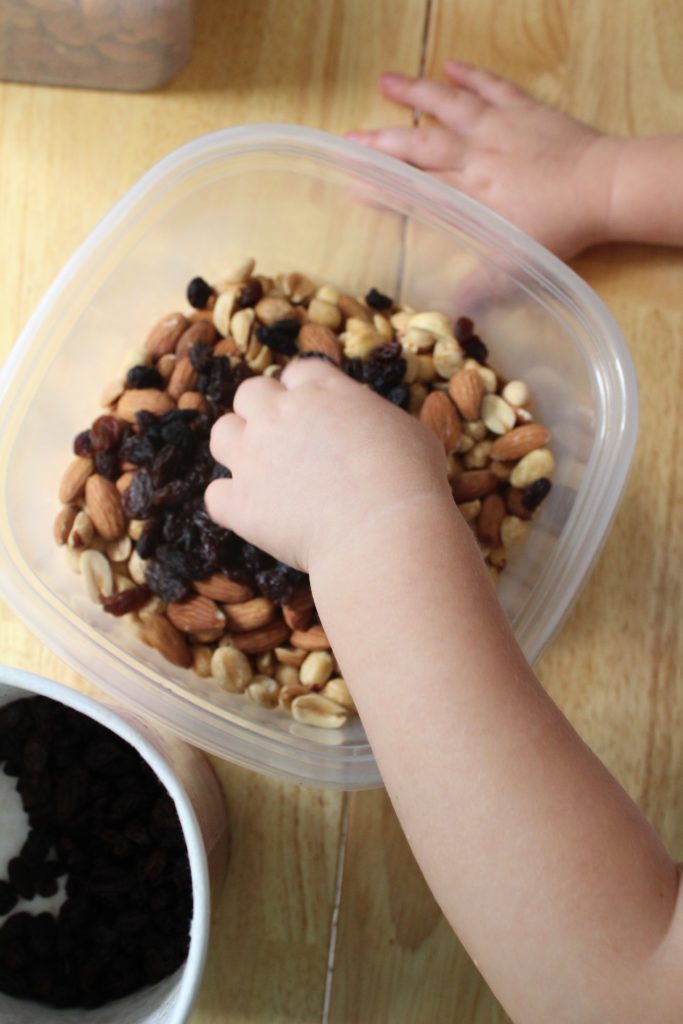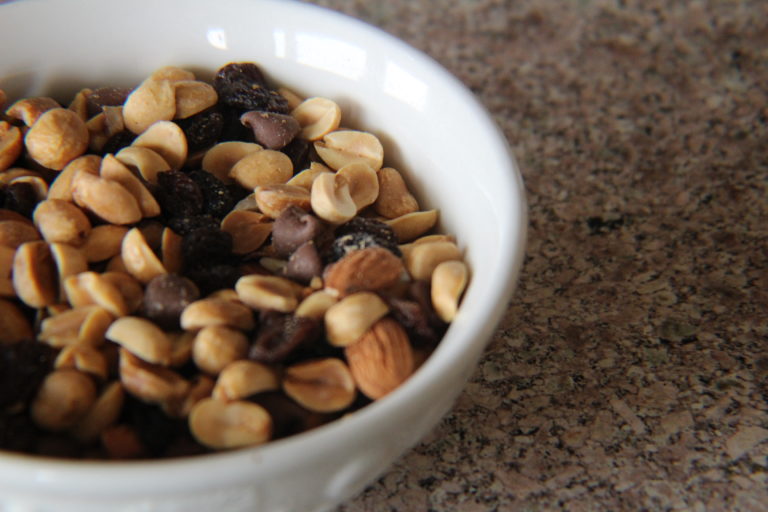 EDUCATE WHILE YOU BAKE
Trail mix is an easy, awesome resource to educate with!  When I pull out this snack for lunch I will have the kids sort the mix into similar piles such as; almonds, peanuts, raisins etc. After everything is sorted I ask them which pile is the biggest, which pile is the smallest, and will then have them count the separate piles.  These basic math skills are so easy to integrate into this healthy, easy, grab n' go snack.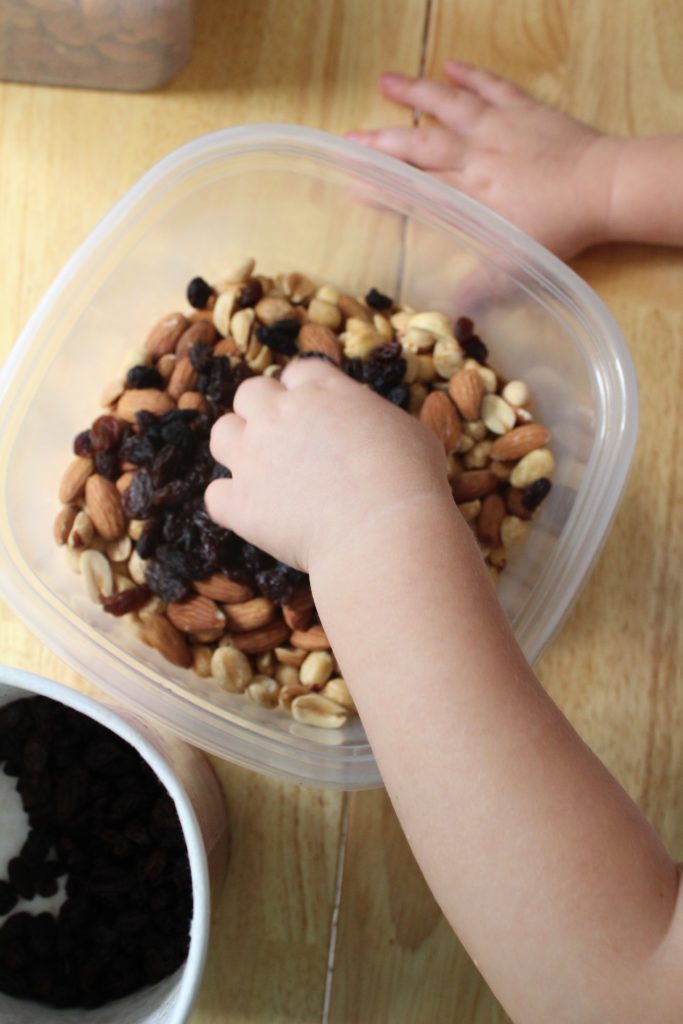 20+ TRAIL MIX COMBINATIONS FOR YOU TO TRY
Peanuts, Almonds, Raisins, Sunflower seeds, Chocolate Chips
Cranberries, pistachios, Banana Chips, Cheerios, Yogurt Covered Pretzels
Peanuts, Cheerios, Goldfish, Pretzels, M&M's
Almonds, Dried Cherries, Sea Salt, Dark Chocolate Chips, Cinnamon
Pecans, Dried Apples, Maple Granola, Pumpkin Seeds, Nutmeg, Cinnamon
Cashews, Brazil nuts, Dried Mango, Banana Chips, Coconut Flakes
Coconut, White Chocolate Chips, Hazelnuts, Dark Chocolate Chips
Almonds, Walnuts, Peanuts, Cashews, Raisins
Walnuts, Pumpkin Seeds, Sunflower Seeds, Dried Apricots, Dried Cranberries
Banana Chips, Peanut Butter Chips, Peanuts, Almonds, Dark Chocolate Chips
Hazelnuts, Dried Cranberries, Dark Chocolate Chips, Raisins, Coconut Flakes
Popcorn, Peanuts, M&M's, Dried Cranberries
Almonds, Chex, Dark Chocolate Chips, Peanut Butter Chips, Dried Cranberries
Peanuts, Almonds, M&M's
Popcorn, M&M's, Teddy Grahams, Goldfish, Pretzels, Dried Cranberries
Popcorn, Cashews, Almonds, Cranberries, Banana Chips, Dark Chocolate Chips
Teddy Grahams, Dark Chocolate Chips, Mini Marshmallows, Pretzels
Pretzels, Bugle Chips, Honeycomb Cereal, Candy Corn, Chex, M&M's
Pecans, Dried Blueberries, Wheat Cereal, Dried Strawberries
Dried Mango, Kale Chips, Shredded Coconut, Cashews, Rice Crackers
Peanuts, Cashews, Dark Chocolate Chunks, Peanut Butter Chips
Hope you have fun experimenting!
What are some of your favorite trail mix recipes?  We would love to hear them!

RELATED POSTS